Monographs
Postcolonial Paris: Fictions of Intimacy in the City of Light
University of Wisconsin Press, 2018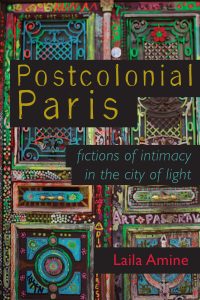 "In the global imagination, Paris is the city's glamorous center, ignoring the Muslim residents in its outskirts except in moments of spectacular crisis such as terrorist attacks or riots. But colonial immigrants and their French offspring have been a significant presence in the Parisian landscape since the 1940s. Expanding the narrow script of what and who is Paris, Laila Amine explores the novels, films, and street art of Maghrebis, Franco-Arabs, and African Americans in the City of Light, including fiction by Charef, Chraïbi, Sebbar, Baldwin, Smith, and Wright, and such films as La haine, Made in France, Chouchou, and A Son.
Spanning the decades from the post–World War II era to the present day, Amine demonstrates that the postcolonial other is both peripheral to and intimately entangled with all the ideals so famously evoked by the French capital—romance, modernity, equality, and liberty. In their work, postcolonial writers and artists have juxtaposed these ideals with colonial tropes of intimacy (the interracial couple, the harem, the Arab queer) to expose their hidden violence. Amine highlights the intrusion of race in everyday life in a nation where, officially, it does not exist."
Recomposing Ecopoetics: North American Poetry of the Self-Conscious Anthropocene
University of Virginia Press, 2018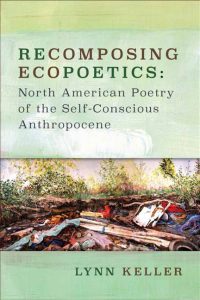 "In the first book devoted exclusively to the ecopoetics of the twenty-first century, Lynn Keller examines poetry of what she terms the 'self-conscious Anthropocene,' a period in which there is widespread awareness of the scale and severity of human effects on the planet. Recomposing Ecopoetics analyzes work written since the year 2000 by thirteen North American poets–including Evelyn Reilly, Juliana Spahr, Ed Roberson, and Jena Osman–all of whom push the bounds of literary convention as they seek forms and language adequate to complex environmental problems. Drawing as often on linguistic experimentalism as on traditional literary resources, these poets respond to environments transformed by people and take 'nature'FFa to be a far more inclusive and culturally imbricated category than conventional nature poetry does. This interdisciplinary study not only brings cutting-edge work in ecocriticism to bear on a diverse archive of contemporary environmental poetry; it also offers the environmental humanities new ways to understand the cultural and affective dimensions of the Anthropocene."
Everywhere and Nowhere: Anonymity and Mediation in Eighteenth-Century Britain
University of Minnesota Press, 2018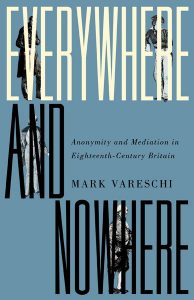 "Everywhere and Nowhere considers the ubiquity of anonymity and mediation in the publication and circulation of eighteenth-century British literature—before the Romantic creation of the 'author'—and what this means for literary criticism. Drawing on quantitative analysis and robust archival work, it reveals the long history of print anonymity so central to the risks and benefits of the digital culture."
Epistolary Acts: Anglo-Saxon Letters and Early English Media
University of Toronto Press, 2018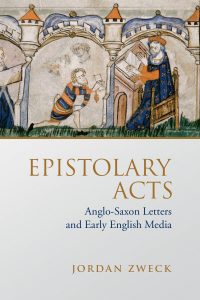 "As challenging as it is to imagine how an educated cleric or wealthy lay person in the early Middle Ages would have understood a letter (especially one from God), it is even harder to understand why letters would have so captured the imagination of people who might never have produced, sent, or received letters themselves.
In Epistolary Acts, Jordan Zweck examines the presentation of letters in early medieval vernacular literature, including hagiography, prose romance, poetry, and sermons on letters from heaven, moving beyond traditional genre study to offer a radically new way of conceptualizing Anglo-Saxon epistolarity. Zweck argues that what makes early medieval English epistolarity unique is the performance of what she calls "epistolary acts," the moments when authors represent or embed letters within vernacular texts. The book contributes to a growing interest in the intersections between medieval studies and media studies, blending traditional book history and manuscript studies with affect theory, media studies, and archive studies."
Edited Collections
Modernism, Postcolonialism, and Globalism: Anglophone Literature, 1950 to the Present
Richard Begam, co-editor
Oxford University Press, 2018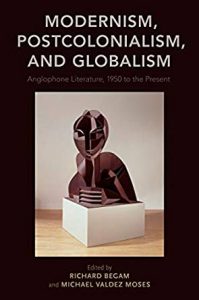 "As England withdrew from its empire after World War II, how did writers living outside the United Kingdom respond to the history of colonialism and the aesthetics of modernism within a global context? In fourteen original essays, edited by Richard Begam and Michael Valdez Moses, a distinguished group of scholars considers these questions in relation to novelists, playwrights, and poets living in English-speaking countries around the world. Modernism, Postcolonialism, and Globalism not only examines how modernism and postcolonialism evolved over several generations, but also situates the writers analyzed in terms of canonical realignments inspired by the New Modernist Studies and an array of emerging methodologies and approaches.
While this volume highlights social and political questions connected with the end of empire, it also considers the aesthetics of postcolonialism, detailing how writers drew upon, responded to and, sometimes reacted against, the formal innovations of modernism. Many of the essays consider the influence modernist artists and movements exercised on postcolonial writers, from W. B. Yeats, Joseph Conrad, Franz Kafka, Marcel Proust, James Joyce, T. S. Eliot, and Virginia Woolf to Impressionism, Expressionism, Surrealism, and Abstractionism. Modernism, Postcolonialism, and Globalism is organized around six geographic locales and includes essays on Africa (Chinua Achebe, Ngugi wa Thiong'o, Nadine Gordimer, J. M. Coetzee), Asia (Salman Rushdie, Arundhati Roy), the Caribbean (Jean Rhys, Derek Walcott, V. S. Naipaul), Ireland (Samuel Beckett, Seamus Heaney), Australia/New Zealand (David Malouf, Keri Hulme) and Canada (Michael Ondaatje). Examining how Anglophone writers engaged with the literary, intellectual, and cultural heritage of modernism, this volume offers a vital and distinctive intervention in ongoing discussions of modern and contemporary literature."
Field Rhetoric: Ethnography, Ecology, and Engagement in the Places of Persuasion
Caroline Gottschalk Druschke, co-editor
University of Alabama Press, 2018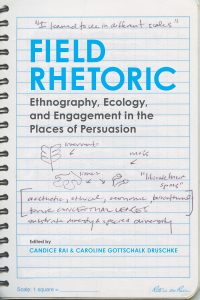 "A variety of research areas within rhetorical studies—including everyday and public rhetorics, space and place-based work, material and ecological approaches, environmental communication, technical communication, and critical and participatory action research, among others—have increasingly called for ethnographic fieldwork that grounds the study of rhetoric within the contexts of its use and circulation. Employing field methods more commonly used by ethnographers allows researchers to capture rhetoric in action and to observe the dynamic circumstances that shape persuasion in ordinary life.
Field Rhetoric: Ethnography, Ecology, and Engagement in the Places of Persuasion gathers new essays that describe and theorize this burgeoning transdisciplinary mode of field-based scholarship. Contributors document and support this ethnographic turn in rhetorical studies through sustained examination of the diverse trends, methods, tools, theories, practices, and possibilities for engaging in rhetorical field research.
This fascinating volume offers an introduction to these inquiries and serves as both a practical resource and theoretical foundation for scholars, teachers, and students interested in the intersection of rhetoric and field studies. Editors Candice Rai and Caroline Gottschalk Druschke have assembled scholars working in diverse field sites to map and initiate key debates on the practices, limitations, and value of rhetorical field methods and research. Working synthetically at the junction of rhetorical theory and field practices, the contributors to this collection build from myriad field-based cases to examine diverse theoretical and methodological considerations. The volume also serves as a useful reference for interdisciplinary qualitative researchers interested in doing research from a rhetorical or discursive perspective in various disciplines and fields, such as English, composition, communication, natural resources, geography, sociology, urban planning, anthropology, and more."
Taking African Cartoons Seriously: Politics, Satire, and Culture
Tejumola Olaniyan, co-editor
Michigan State University Press, 2018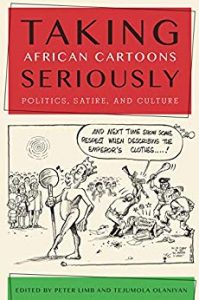 "Cartoonists make us laugh—and think—by caricaturing daily events and politics. The essays, interviews, and cartoons presented in this innovative book vividly demonstrate the rich diversity of cartooning across Africa and highlight issues facing its cartoonists today, such as sociopolitical trends, censorship, and use of new technologies. Celebrated African cartoonists including Zapiro of South Africa, Gado of Kenya, and Asukwo of Nigeria join top scholars and a new generation of scholar-cartoonists from the fields of literature, comic studies and fine arts, animation studies, social sciences, and history to take the analysis of African cartooning forward. Taking African Cartoons Seriously presents critical thematic studies to chart new approaches to how African cartoonists trade in fun, irony, and satire. The book brings together the traditional press editorial cartoon with rapidly diverging subgenres of the art in the graphic novel and animation, and applications on social media. Interviews with bold and successful cartoonists provide insights into their work, their humor, and the dilemmas they face. This book will delight and inform readers from all backgrounds, providing a highly readable and visual introduction to key cartoonists and styles, as well as critical engagement with current themes to show where African political cartooning is going and why."
Textual Editions
John Marston's The Dutch Courtesan
Karen Britland, editor
Arden Early Modern Drama, 2018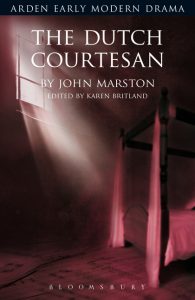 "The Dutch Courtesan is a riotous tragicomedy that explores the delights and perils afforded by Jacobean London. While Freevill, an educated young Englishman and the play's nominal hero, frolics in the city's streets, taverns and brothels, Franceschina, his cast-off mistress and the Dutch courtesan of the play's title, laments his betrayal and plots revenge. Juxtaposing Franceschina's vulnerable financial position against the unappealing marital prospects available to gentry women, the play undermines the language of romance, revealing it to be rooted in the commerce and commodification. Marston's commentary on financial insecurity and the hypocritical repudiation of foreignness makes The Dutch Courtesan truly a document for our time."