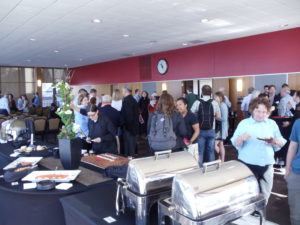 The Helen C. White Award is presented to women majoring in the Humanities who exemplify the sterling character of its namesake. Students across the UW campus recognize the name "Helen C. White"—it adorns the building where many of them study at some point in their undergraduate careers, and it houses the English Department. Helen C. White Award recipients demonstrate academic success while also holding a deep commitment to their communities. Ineva Baldwin, the donor whose generosity makes the Helen C. White Award possible, wanted to recognize women who share their humanistic culture with their families and society more broadly.
The following is an interview with Susan Maloney, the 2018 winner of the Helen C. White Award. Susan is an undergraduate student at UW-Madison majoring in Gender and Women's Studies and English with a focus on Creative Writing. She is also finishing a degree in nursing.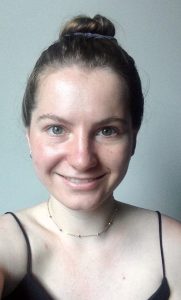 What drew you to English as a major?
Starting in primary school, I loved to write short stories, perform plays and skits I had written, and read as much as I could. Coming into UW-Madison, I knew I wanted to major in GWS and I had an idea that I wanted to eventually become a journalist/activist reporting and interacting with women's issues worldwide. My first two semesters at UW-Madison, I signed up for a variety of English classes just because they seemed interesting to me. I immediately fell in love with learning literature and writing creativity at the college level. The English Department was, and continues to be, so welcoming and encouraging that I quickly decided to add English as a second major.
What are your current plans once you've finished up your degree at Madison?
My immediate plan is to participate in the Peace Corps for a two-year term. I want to expand my worldview and interact with different people and communities around the world. Currently, I am a birth doula, and after the Peace Corps I want to earn a master's degree in midwifery. By participating in the Peace Corps, I hope to learn with women from a different place and culture about birth rituals and practices and what birth means to people and societies from a more global perspective.
How do you see your studies in English contributing to your future interests?
My grandmother was an emergency room nurse for over 40 years and I still vividly remember the stories she would tell about her experiences. I think what I've learned about writing from the English Department here will inform the way I tell stories for the better. I believe one of the best ways to extend the immediate impact of my work as a nurse-midwife is though storytelling and writing, and my learning in the English Department here has provided me with invaluable tools to pursue this.
What has been your favorite English classes so far?
My favorite English classes have been the creative writing workshops that I have taken. Prior to the workshops, I had never participated in a community of writers who are dedicated to improving their writing as well as helping their peers do the same. I have been extremely fortunate to have writing professors and instructors who are not only phenomenal writers themselves but dedicated to helping others improve their craft. I have learned so much about my own writing by critiquing others' work and hearing honest opinions on my own.
What does the Helen C. White Award mean to you, and what has it enabled you to do?
When I earned the Helen C. White scholarship, I felt so honored that the community in the English department wanted to recognize my involvement in the English department and the Madison community beyond. One reason I choose to stay in Madison after high school, was to have the chance to give back to the community that helped raise me. The support of the English Department to achieve this goal means so much to me and this scholarship has enabled me to dedicate more time to my studies in English, Gender and Women's Studies, and nursing, as well as time to work on my Wisconsin Idea Fellowship project. The Idea Fellowship is $7,000 grant from the Morgridge center designed to support students in community service. Thanks to the Helen C. White Scholarship, my partner and I are able to use the entire $7,000 on the project.
Click here for more information about the English department's awards and scholarships for undergraduate majors.