2022: Dr. Edward S. Holmes
Every year the English Department's Board of Visitors honors a graduate for their outstanding career, contribution to society, or support of the University of Wisconsin. This year's recipient is Dr. Edward S. Holmes.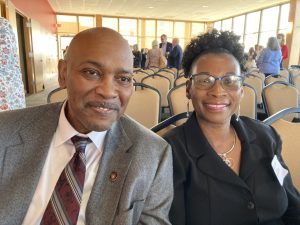 Dr. Holmes hails from the nation's capital, Washington, D.C. He attended the University of Wisconsin-Madison where he completed his undergraduate degrees in English and political science, a Master of Social Work degree and a PhD in educational leadership and policy analysis. Dr. Holmes is well known for founding, producing, and directing the Ebony Expression Cultural Awareness Project, a performance arts group for which he received city, county, and congressional recognition. This innovative program was dedicated to the talent development of African American youth and the education of communities across the state about the richness, significance, and contributions of Black culture to American society.
His 40-year career in the Madison community has focused on the implementation of creative community-based arts and educational programs as well as the creation of inclusive, engaging, academically successful public schools. Holmes received Wisconsin's prestigious Milken Educator of the Year award in 2003 for his work in the revitalization of Wright Middle School, Madison Metropolitan School District's first charter school. He went on to successfully lead West High School for a decade, one of the top public high schools in the state and nation. He received Wisconsin's first Martin Luther King Heritage Award for his work at The Neighborhood House and the South Madison Neighborhood Centers, which served some of Madison's first multi-cultural, multi-racial low-income communities.
Dr. Holmes serves as Chief Equity and Innovation Officer at the Overture Center for the Arts and a member of the shared Executive Leadership Team, a creative non-traditional leadership model that challenges the notion that an organization must have a single president and CEO to achieve success.
About the Distinguished Alumni Award
This award honors the prestigious graduates of the UW English program who have made outstanding contributions in one or more of the following ways:
Professional achievements
Contributions to society
Service or support of the University of Wisconsin
The honorees demonstrate the value that their English education has had on their lives and the rewarding paths that an English major may take in life.
This is an accordion element with a series of buttons that open and close related content panels.
2021: André De Shields
2021: André De Shields, '70
"Surround yourself with people whose eyes light up when they see you coming."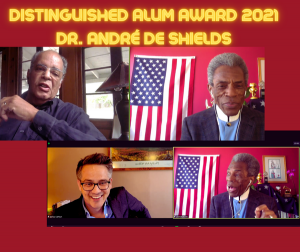 This year the award went to Broadway Legend (and UW-Madison honorary doctorate holder) André De Shields. The award was presented by BoV member Lester Lennon at a virtual ceremony, followed by a Q&A with students, moderated by Professor Joshua Calhoun. And, yes, there was a musical interlude! We are tremendously grateful to Dr. (oh yes!) De Shields for being so generous with his time — and for showing the world where an English degree from UW-Madison can take you.
2020: due to the pandemic, the award was not given.
2019: Gillian Laub
2019: Gillian Laub, '97
"Then I stumbled on a more complicated story."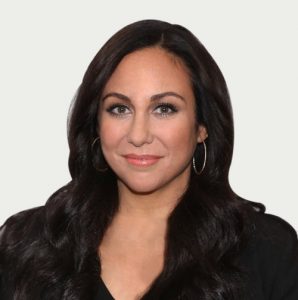 With this simple segue in her 2015 HBO documentary film: Southern Rites, Gillian Laub (BA '97) shifts focus from her ongoing photographic chronicle of segregated proms in Montgomery County, GA to the wrenching aftermath of the 2011 shooting of an unarmed black man by a white homeowner in the same community. In order to tell the story of the shooting, Laub complements her stock-in-trade photography with detailed interviews that are as illuminating as they are painful to watch. The film curates its interviews like a photo album by placing voices directly next to each other so that they can organically speak together about the racial politics in Montgomery County. As the New York Times review puts it, "In a calm, understated tone, Southern Rites digs deep to expose the roots that have made segregated proms and other affronts possible."
Southern Rites had its genesis in a 2009 New York Times Magazine photo essay documenting the "white folks"/"black folks" proms of Montgomery County (yes –  that's 2009!). The film evolved from her return visits to photograph the southern Georgia county's first integrated prom in 2011. Though best known for her Southern Rites work, Gillian's drive "to make an image that tells a story" has led to a career spanning nearly two decades of commissions, exhibitions, publication contributions, and books. Her work has earned numerous awards including virtually annual American Photography Awards since 2004.
Gillian's Southern Rites photography exhibition was displayed at UW's Chazen Museum of Art from January 25 through May 12. Along with the exhibit, the Chazen held a screening of the HBO documentary followed by a discussion with Laub.
The trajectory of Gillian's career took a sharp turn after 9/11 when the native New Yorker began photographing families who were searching for missing loved ones in the aftermath of the terrorist attacks. She expanded the project to include those who had ultimately learned their loved ones had been lost.  This work was followed by her extensive photo-documentation and diary-like collection of the testimonies of Palestinian and Israeli people caught in and victimized by the second intifada. This project led to her first book, Testimony, in 2007.  The book version of Southern Rites followed in 2015.  Citing Laub's "empathetic portraits and eye for beauty amid the drama," American Photo included Southern Rites among the Best Photobooks of the Year: 2015. It was included on similar lists by TIME, Smithsonian, Vogue, and LensCulture.
Gillian Laub received the 2019 Distinguished Alumni Award at the annual English Department awards ceremony in Madison on April 28.  The annual award has been established by the Board of Visitors to recognize alumni who have made exemplary use of their UW education.
About the Distinguished Alumni Award
This award honors the prestigious graduates of the UW English program who have made outstanding contributions in one or more of the following ways:
Professional achievements
Contributions to society
Service or support of the University of Wisconsin
The honorees demonstrate the value that their English education has had on their lives and the rewarding paths that an English major may take in life.
2018: Alicia Ostriker
Update: The 2018 Distinguished Alumni Award winner, Alicia Suskin Ostriker, has been named State Poet 2018-2020 by New York Governor Andrew Cuomo. Congratulations, Alicia!
Poet. Scholar. Teacher. Alicia Ostriker has hit all these marks and more since earning her PhD in English from UW–Madison in 1964.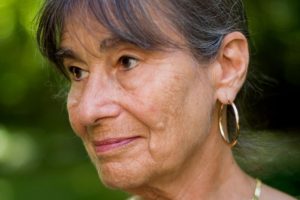 Alicia's first collection of poems, Songs, was published in 1969. Over the intervening decades, she has produced more than a dozen books of her poetry and works of criticism covering topics ranging from William Blake to the Bible, with Feminist Revision and the Bible (Blackwell, 1993). Her most recent collection of poems, Waiting for the Light (University of Pittsburgh Press), was published in 2017.
A Professor Emerita of English at Rutgers, Alicia is currently on the faculty at Drew University, teaching in its Low Residency Poetry MFA program. Twice nominated for the National Book Award, Alicia has won the Jewish Book Award for Poetry and the William Carlos Williams Award of the Poetry Society of America, among her many accolades. Her fourth book of poetry, The Mother-Child Papers (1980), is considered a feminist classic.
Robert Phillips writes in The Hudson Review that Ostriker is "one of our finest poets," who "writes poems born of tragedy and illness…poems of sheer joy" that are "fresh, brave, unself-pitying." The Jewish Women's Archive has characterized her as a "feminist revolutionary" whose contributions to literary criticism are "full of passionate daring and personal hutzpa."
Speaking of her writing to Contemporary Authors, Alicia said: "Composing an essay, a review or a piece of literary criticism, I know more or less what I am doing and what I want to say. When I write a poem, I am crawling into the dark. Or else I am an aperture. Something needs to be put into language, and it chooses me. I invite such things."
Alicia Ostriker received the 2018 Distinguished Alumni Award on her visit to UW–Madison in April. While on campus, Alicia conducted a Masters Class for Creative Writing students, and read selections from her poetry at the annual English Department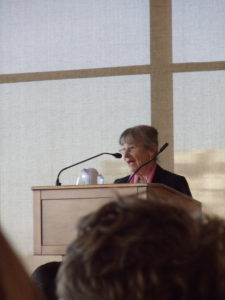 Majors award ceremony. The award was established by the English Board of Visitors to recognize alumni who have made exemplary use of their UW English education.
Watch Alicia Ostriker talk about her career as a feminist scholar and poet at the Spring 2018 Distinguished Alumni Award Ceremony here!
2017: Robert B. Barnett and Rita Braver
Robert B. Barnett (1968), a Washington, D.C. lawyer and Rita Braver (1970), a CBS News National Correspondent are UW-Madison English Department Distinguished Alumni Award winners for 2017.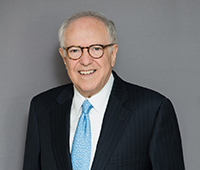 Bob graduated from U.W. Madison in 1968 with a B.A., double majoring with honors in English and History. From there, he went to the University of Chicago Law School where he earned a J.D., cum laude, in 1971. After law school, he clerked for Judge John Minor Wisdom of the U.S. Court of Appeals for the Fifth Circuit in New Orleans, Louisiana (1971 – 1972) prior to serving as a law clerk to Justice Byron R. White of the U.S. Supreme Court (1972 – 1973). He also served as legislative assistant to U.S. Senator Walter M. Mondale (1973 – 1975).
Today, Bob is a senior partner of Williams & Connolly, LLP, a Washington D.C. based international law firm, which he joined in 1975. Bob represents corporations and individuals on a wide variety of matters relating to litigation, corporate work, crisis management, transactions and government and media relations. He is well known for his work representing authors, television news correspondents and producers, as well as assisting former government officials with their transitions back to the private sector. His clients include Barack and Michelle Obama, George and Laura Bush, Bill and Hillary Clinton, Brian Williams, Bob Woodward and Rita Braver. Bob has worked on ten national presidential campaigns since 1976, focusing on debate preparation. This cycle, he prepared Hillary Clinton for all of her primary and general election debates and played the role of Bernie Sanders in the primary rehearsals and Tim Kaine for the vice presidential debate. Bob's name appears regularly on rankings of top lawyers, both locally in Washington, D.C. and nationally.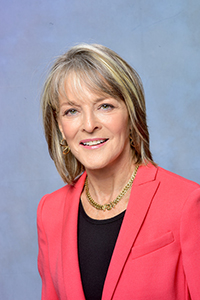 Rita graduated from U.W. Madison in 1970 with a B.A., double majoring in English and Political Science. Today she also is a National Correspondent for the CBS News Broadcast Sunday Morning. After a tenure at the Daily Cardinal, Rita began her broadcast journalism career as a "copy girl" for local CBS affiliate WWL-TV in New Orleans, Louisiana. She has enjoyed a distinguished career with CBS News as an editor, producer, and correspondent. She has reported for the CBS Evening News, 48 Hours, Face the Nation, CBS News This Morning, Street Stories and Public Eye.  She was the CBS News Chief White House Correspondent (1993 – 1997) and prior to that, she served as the Chief Law Correspondent for CBS News (1983 – 1993). She has won seven Emmy Awards and numerous other professional awards. Rita also received a Distinguished Service Award from U.W.'s Journalism and Mass Communications department in 1994. Rita also was named an Outstanding Mother by the National Mother's Day Committee.
Bob and Rita met while undergraduates at Madison, were married in New Orleans, and moved to the Washington D.C. area where they raised a daughter, and where they still reside today. Frequent visitors to Madison, they have been loyal supporters of the University, most recently, serving on the Board of Visitors of the Political Science Department. The U.W. Alumni Association bestowed its highest honor, its Distinguished Alumni Award, to Bob and Rita in 2010.
2016: Peter and Susan Straub
Click here to watch the presentation of the 2016 DAA Award!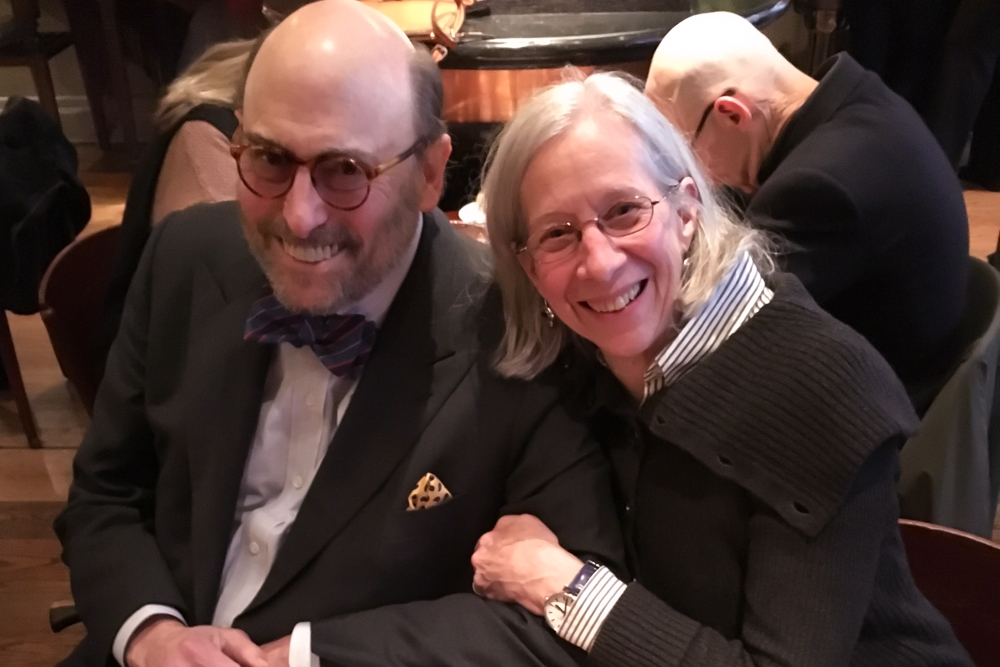 Peter and Susan Straub both hail from Milwaukee, Wisconsin, but met as English majors at the UW. Peter earned a BA with honors in English from the UW-Madison in 1965 and an MA in English Literature from Columbia University in 1966. He is the author of more than a dozen novels, as well as collections of shorter fiction and poetry. Two of his novels (Julia andGhost Story) have been filmed, and his books have been translated into more than twenty languages. He has been the recipient of World Fantasy, Bram Stoker, British Fantasy, and International Horror Guild Awards, and was named Grand Master at the 1998 World Horror Convention. In the same year, he was Guest of Honor at the 19th Annual International Conference on the Fantastic in the Arts. He has reviewed fiction for The New Statesman and The Washington Post. He and Susan lived in Ireland and England for a decade and now live in New York City. Peter previously served on the UW-Madison Department of English Board of Visitors and received a Wisconsin Alumni Association Distinguished Alumni Honoree Award in 2009.
Susan Straub earned her BA in 1966.  Later she received training in child psychotherapy at the Tavistock Institute of London and received an MSW in Clinical Social Work from New York University in 1987.  At this time, she developed her idea for the Read to Me program.  Founded in 1990, the program offered a hands-on series of activities and supervised practice sessions that guide teen parents and other mothers to read with their babies.  This program has been featured in O Magazine and has been awarded many honors, including the Reach Out and Read of Greater New York Literacy 2008 Champion Award.  She has co-authored two books:  Reading with Babies, Toddlers and Twos: A Guide to Laughing, Learning and Growing Together Through Books (2013) and Reading with Babies, Toddlers and Twos: A Guide to Choosing, Reading and Loving Books Together(2006). Along with Peter, Susan is a founding member of the Board of Visitors for the UW-Madison English Department and received a University of Wisconsin Alumni Association Honoree Award with Peter in 2009.
Along with Peter, Susan is a founding member of the Board of Visitors for the University of Wisconsin – Madison English Department and received a University of Wisconsin Alumni Association Honoree Award with Peter in 2009.
2015: Shelby Stephenson ('74)
Shelby Stephenson is currently the Poet Laureate of North Carolina and still lives on the family farm near Benson, the Coastal Plain of North Carolina, where he grew up.  After leaving the farm for college, he graduated from the University of North Carolina–Chapel Hill (BA, English, 1960) and the University of Pittsburgh (MA, English, 1967) prior to his Ph.D. study at Wisconsin.  He moved back to North Carolina in the 1970s to become a professor, serving as the chair of the English department at Campbell College from 1974 to 1978 before becoming professor of English at the University of North Carolina at Pembroke and editor of Pembroke Magazine from 1978 until retiring in 2010.  The state of North Carolina presented him with the 2001 North Carolina Award in Literature.  He has also received the Bellday Poetry Prize, the Oscar Arnold Young Award, the Zoe Kincaid-Brockman Award, the Brockman-Campbell Award, the Bright Hill Press Chapbook Prize, and the Playwright's Fund of North Carolina Chapbook Prize.
2013: Daniel J. Socolow ('62)
Daniel J. Socolow was the director of the MacArthur Fellows Program, also known as the "Genius Grants," at the John D. and Catherine T. MacArthur Foundation from 1997 until July 2012. Before joining the foundation, he was president of the Socolow Group and helped start a number of companies, including an early interactive website for linking older Americans and the Internet. Socolow also served as a senior advisor and director of programs in the Jimmy Carter Presidential Center, president of the American University of Paris, and vice president of Spelman College. He was a senior fellow at the National Institute of Education from 1976 – 1978. In the 1960s, Socolow worked for the Ford Foundation in Argentina, helping establish grant programs for Argentine universities that were struggling after political and economic crises.  In addition to his degree from the University of Wisconsin-Madison, Socolow holds an M.A. from Harvard University, a Ph.D. from the University of Chicago, and a Doctor of Humane Letters from the American University of Paris.
2011: Ben Sidran ('67)
Although best known in some circles for writing Steve Miller's hit song Space Cowboy, Ben Sidran is more widely recognized for hosting National Public Radio's landmark jazz series Jazz Alive, which received a Peabody Award, as well as VH-1 television's New Visions series, which received the Ace Award for best music series. A pianist, producer, singer and composer, he has recorded 35 solo albums, including the Grammy nominated Concert for Garcia Lorca, and has produced recordings for such noted artists as Van Morrison, Diana Ross, and Mose Allison. He composed the soundtrack for the acclaimed film Hoop Dreams, and scored the documentary Vietnam: Long Time Coming, which won both the Aspen Film Festival audience award and an Emmy. He is the author of two books on the subject of jazz, Black Talk, and Talking Jazz. He holds a Ph.D. in American Studies from Sussex University, but has generally avoided the academic life, preferring instead to spend his time performing, producing and writing. His latest works include the memoir A Life in the Music, and the groundbreaking text There Was a Fire: Jews, Music and the American Dream, along with the recordings Dylan Different and Don't Cry For No Hipster. Ben was the 2012 recipient of the Wisconsin Alumni Association's Distinguished Alumni Award.
2010: Joanne V. Creighton ('64)
Joanne Creighton is a Phi Beta Kappa graduate of the University of Wisconsin at Madison and holds a master of arts in teaching from Harvard University and a doctoral degree in English literature from the University of Michigan. She is a well-know academic whose strong belief in the transformational power of the liberal arts influenced the lives of thousands of women who passed through the Mount Holyoke College where she served as President of Mount College from 1996 – 2010. More recently, she served as interim President of Haverford College through the 2012 – 2013 academic year. Previously, she held faculty and administrative positions at Wayne State University, the College of Arts and Sciences at the University of North Carolina at Greensboro, and Wesleyan University. Joanne is the author of four books on William Faulkner, Joyce Carol Oates and Margaret Drabble. She has also written a number of book reviews as well as op-eds and articles on issues facing higher education and women's colleges.
2009: Joan Cusack ('84)
Joan is a comedic actress whose credits include more than 40 motion pictures, a few plays and a TV series set in Chicago. She has been nominated for two Oscars for Best Actress in a Supporting Role for Working Girl (1988) and In & Out (1997).  Joan's movie career began in 1980 with the movie My Bodyguard. Some of her more notable films include: Martian Child (2007), Friends with Money (2006), The School of Rock (2003), Runaway Bride (1999) and Addams Family Values (1993). Joan is well grounded in theater, having trained with her siblings at the Piven Theater Workshop. She also spent a season on the set of "Saturday Night Live" which continued to hone her improvisational skills. She is known for her scene stealing expressions and a down to earth quality that enables the audience to sympathize with her. Joan was the first recipient of the Department of English's Distinguished Alumni Award.