Tejumola Olaniyan (1959-2019)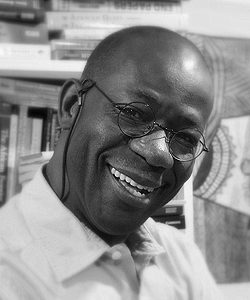 Degrees and Institutions
PhD, Cornell University, 1991
MA, Cornell University, 1989
M. A., University of Ife, Nigeria, 1985
BA, University of Ife, Nigeria, 1982
Selected Publications
Taking African Cartoons Seriously: Politics, Satire, and Culture. Co-edited with Peter Limb. East Lansing: Michigan State University Press, 2018.
State and Culture in Postcolonial Africa: Enchantings. Edited. Bloomington: Indiana University Press, 2017.
"Africa and the Post-Global," Cambridge Journal of Postcolonial Literary Inquiry Volume 3.3 (2016), & Volume 4.2 (2017).
Special Topic: Contemporary African Drama and Theatre. Co-edited with Femi Osofisan and Don Rubin. Critical Stages, Issue 15 (June 2017). http://www.critical-stages.org/15/
Audible Empire: Music, Global Politics, Critique (co-edited with Ronald Radano & Tejumola Olaniyan, Eds.; Duke University Press, 2016)
African Diaspora and the Disciplines (co-edited with James H. Sweet, 2010)
African Literature: An Anthology of Criticism and Theory (co-edited with Ato Quayson; Blackwell 2007)
Arrest the Music!: Fela and His Rebel Art and Politics (Indiana UP, 2004; New & Expanded Edition, BookCraft, 2009; nominated for Best Research in World Music by the Association for Recorded Sound Collections in 2005)
Scars of Conquest/Masks of Resistance: The Invention of Cultural Identities in African, African American and Caribbean Drama (Oxford UP, 1995)
African Drama and Performance (co-edited with John Conteh Morgan, Indiana UP, 2004)
Editor, "On 'Post-Colonial Discourse': A Special Issue," Callaloo 16.4 (Fall 1993)
several book chapters and articles in journals such as Cultural Critique, Transition, Research in African Literatures, Theatre Journal, African American Review, Social Dynamics, Callaloo, etc.
Research Interests
African, African American, and Caribbean literatures; postcolonial cultural studies; genre studies—history, theory, and sociology of drama; popular culture studies—art, music, and architecture.
Personal Statement
My deep interest is transdisciplinary teaching and research; my goal is the cultivation of critical self-reflexivity about our expressions and their many contexts.