Karen Britland
Position title: Halls-Bascom Professor of English
Email: britland@wisc.edu
Address:
6133 Helen C. White Hall
Interests

Shakespeare, early modern drama and performance, print and manuscript culture, women's writing, the English Revolution, Anglo-Continental exchange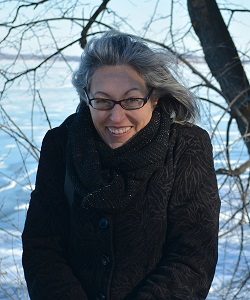 Selected Publications
Books
Drama at the Courts of Queen Henrietta Maria (Cambridge University Press, 2006; paperback 2009)
Textual Editions
John Webster's The Duchess of Malfi (London: A&C Black [New Mermaids]; 2020/1)
John Marston's The Dutch Courtesan (London: Bloomsbury [Arden Early Modern Drama], 2018), xx + 276pp.
The Cambridge Edition of the Works of Ben Jonson, 7 volumes (Cambridge: Cambridge University Press, 2012), General Editors: Martin Butler, David Bevington, Ian Donaldson; Associate Editors: Karen Britland, Eugene Giddens
Elizabeth Cary's The Tragedy of Mariam (London: A&C Black, 2010), xxxii + 101pp.
Critical Editions
Henry V: Continuum Renaissance Drama, ed. Karen Britland and Line Cottegnies (London: Bloomsbury, 2018), 325pp.
Profane Shakespeare: Perfection, Pollution, and the Truth of Performance, Special Edition of the online, peer-reviewed journal, Etudes Epistémè, 33 (2018), edited by Anne-Marie Miller-Blaise, Karen Britland, and Line Cottegnies: https://doi.org/10.4000/episteme.2445
Recent Articles and Book Chapters
"Aphra Behn's First Marriage?" The Seventeenth Century (published online 4 December 2019): https://doi.org/10.1080/0268117X.2019.1693420
"Conspiring with 'friends': Hester Pulter's Poetry and the Stanley Family at Cumberlow Green," Review of English Studies, 69.292 (November 2018), 832-54: https://doi.org/10.1093/res/hgy058
""What I Write I Do Not See': Reading and Writing With Invisible Ink," in Early Modern Cryptography, ed. Katherine Ellison and Susan Kim (New York: Routledge, 2018), 208-22
"Felix Kingston, Aurelian Townshend's Ante-Masques, and the Masque at Oatlands, 1635," Huntington Library Quarterly, 79.4 (2016), 655-75
For a full publication list, click here
Scholarship and Current Projects
I am currently working on a book about clandestine writing in the English Revolution and have published articles and given talks about cipher and invisible inks. I am also deeply interested in early modern women's writing and have recently published work on Hester Pulter and Aphra Behn. Between 2000 and 2012, I worked, first as a research associate and then as an associate editor, on the Cambridge Complete Works of Ben Jonson edition. I have also edited Elizabeth Cary's play, The Tragedy of Mariam, John Marston's The Dutch Courtesan, and John Webster's The Duchess of Malfi.
Teaching
I teach large lecture courses on Shakespeare and smaller undergraduate classes on Shakespeare and early modern dramatists such as Ben Jonson. In 2015, I was awarded the Chancellor's Distinguished Teaching Award at UW-Madison. Recent graduate classes have discussed city comedy, Shakespeare on film, and women's writing during the English Revolution. I am happy to work with senior-thesis students and graduate students who are interested in early modern literature, particularly those whose focus will be on Shakespeare, early modern drama and/or the literature of the Stuart period.