Caroline Gottschalk Druschke
Associate Professor
caroline.gottschalk.druschke@wisc.edu
6183 Helen C. White Hall
Interests

Rhetorical theory; freshwater science and management; feminist science studies; community based learning; field methods; science writing; environmental justice; animal studies

Website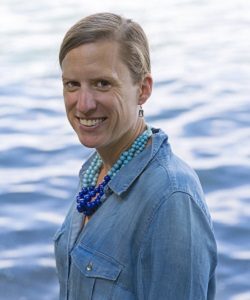 Degrees and Institutions
Ph.D., University of Illinois at Chicago
M.A., University of Illinois at Chicago
B.A., University of Iowa
Selected Publications
Rai, C., & Druschke, C. G. Field Rhetoric: Engaging the Places of Persuasion. Tuscaloosa: University of Alabama Press. In press.
Druschke, C.G., & Rai, C. "Making Worlds with Cyborg Fish." Tracing Rhetoric and Material Life: Ecological Approaches, B. McGreavy, G. McHendry, S. Senda-Cook, and J. Wells, eds. London: Palgrave Studies in Media and Environmental Communication. In press.
Druschke, C.G., Lundberg, E., Drapier, L., & Hychka, K. C. (2017). "Centring Fish Agency in Coastal Dam Removal and River Restoration." Water Alternatives, 10(3): 493-512.
Druschke, C.G., Reynolds, N, Morton-Aiken, J., Lofgren, I., Karraker, N. E., & McWilliams, S. R. (2017). "Better Science Through Rhetoric: A New Model and Pilot Program for Training Graduate Student Science Writers." Technical Communication Quarterly, 26(4).
Druschke, C.G., & McGreavy, B. (2016). "Why Rhetoric Matters for Ecology." Frontiers in Ecology and the Environment, 14(1), 46-52.
Druschke, C.G. (2013). "Watershed as Common-Place: Communicating for Conservation at the Watershed Scale." Environmental Communication: A Journal of Nature and Culture, 7(1), 80-96.