Laila Amine
Position title: Associate Professor of English
Email: laila.amine@wisc.edu
Address:
7167 Helen C White
Interest

20th-century African American and African Diaspora Literatures, Comparative Race and Ethnic Studies, Migration, Decoloniality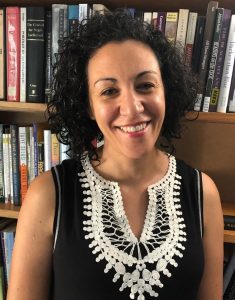 Degrees and Institutions
Ph.D. Comparative Literature and American Studies, Indiana University, 2011
M.A. African American and African Diaspora Studies, Indiana University, 2005
Select Publications
BOOK:
Postcolonial Paris: Fictions of Intimacy in the City of Light. University of Wisconsin Press, 2018.
SPECIAL ISSUE:
Guest Co-Editor (with Caroline Fache), Culture, Theory, and Critique, "Crossroads of Memory," 53:2 (2012). Contributors: Naomi Angel, Laila Amine, Lucy Bond, Caroline Fache, Vivian Nun Halloran, Jessica Rapson, Karen Roybal.
ARTICLES AND BOOK CHAPTERS:
"Alicia Erian's Towelhead: The New Face of Orientalism in the U.S. Ethnic Bildungsroman, " College Literature, volume 45:4 (Fall 2018).
"No More Eden: The Place of Diasporic Encounters in Paris Noir Fiction." Paris and the Marginalized Author. Eds. Valérie Orlando and Pamela Pears. New York: Lexington books, 2018.
"The Paris Paradox: Colorblindness and Colonialism in African-American Expatriate Fiction" American Literature 87:4 (2015): 739-768.
"A House with Two Doors? Creole Nationalism and Nomadism in Multicultural London" in themed issue on Creolization: Towards a Non-Eurocentric Europe," edited by Murray Pratt and Mireille Rosello in Culture, Theory and Critique 48:1 (2007): 71-85.
"Crossroads of Memory: Contexts, Agents, and Processes in a Global Age." Culture, Theory, and Critique 53:2 (2012): 99-109.
"Double Exposure: The Family Album and Alternate Memories in Leïla Sebbar's The Seine Was Red," Culture, Theory, and Critique 53:2 (2012): 181-198.
Op-ed
Recent Books
In the cultural imaginary of Paris, there is little room for the working class multi-racial outskirts, unless the subject is Islamic culture and the subjection of women and queer subjects. The Paris imagined in Maghrebi, African American and French immigrant cultures was both invisible in the scholarship and hypervisible as the "Badlands of the Republic" in French mainstream media. Like the city of the Francophile tourists, this other Paris is largely an imagined territory, albeit associated with crime, unbridled patriarchy, and violence.

Un-shackling the sensational and the Paris outskirts, this book chronicles everyday life in the impoverished sectors of the French capital in various contexts and cultural traditions. We find versions of Postcolonial Paris in post-World War II Maghrebi and African American expatriate fiction, 1980s beur fiction and cinema, and contemporary French immigrant cultures. Together, works by Driss Chraïbi, Mehdi Charef, William Gardner Smith, Faïza Guène, J.R., and Princess Hijab register the shifting politics and grammars of race in a nation where it does not appear on the census and where the public overwhelmingly condemns it as an Anglo-Saxon importation.

Spanning 1955 to 2015, authors of African descent have pondered the French tyranny of universalism and interrogated the myth of Paris as a space of liberation for the African diaspora. Some of the most well-known Francophiles such as James Baldwin also wrote about a French capital marred by colonial exclusion. By desegregating the cultural study of Paris to include its impoverished outskirts, the book reveals that writers and filmmakers have deployed Franco-African intimate encounters to articulate the political exclusion of racialized subjects. In the colonial and contemporary eras, their narratives of intimacy can help us better understand the ways in which gender and sexual difference work(ed) to construct, maintain, or challenge racial boundaries.

Praise for Postcolonial Paris:
"Provides unique ways to reread, re-portray the outskirts of Paris, successfully and creatively showing how they reveal France's history of colonization and continued oppression of racially, sexually, and religiously excluded groups of people"
—Public books

"Present[s] a compelling reading of several classic works of French and francophone literature, and deepens readers' understanding of the social dynamics shaping lived experiences in Paris today."
—French Studies

"Amine's work is impressive in the temporal ground it covers, and the theorisation is supported by very thoughtful in-depth analyses of the works at play. Overall the book provides a cohesive argument and brilliant analyses on the role of spatiality in colonial and postcolonial intimacies in the French capital"
—Postcolonial Studies

"A powerful, highly relevant, and innovative study of the cultural and political role of France's largest ethnic and religious minority"
—Jarrod Hayes, author of Queer Nations: Marginal Sexualities in the Maghreb

"Effectively demonstrates how racialized stereotyping and ethnocultural marginalization of citizens of North African descent have long betrayed the French idyll of equality and integration. Perceptive and groundbreaking"
—Adlai Murdoch, author of Creolizing the Metropole

Read more