Mark Vareschi
Position title: Associate Professor
Email: vareschi@wisc.edu
Address:
6105 Helen C. White
Interests

Restoration and Eighteenth-Century Literature and Culture, Restoration and Eighteenth-Century Drama, Aesthetics, Digital Studies, Surveillance Studies, Media Theory, Philosophy and Literature, Literary Theory, Gender and Sexuality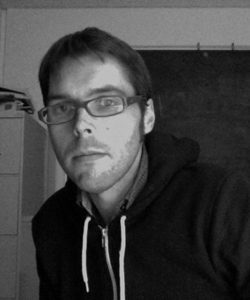 Degrees and Institutions
PhD, English, Rutgers University, 2011
MA, English, Rutgers University, 2007
BA, English, Ithaca College, 2003
Selected Publications
Intermediate Horizons: Book History and Digital Humanities, coedited with Heather Wacha. University of Wisconsin Press, 2022.
Everywhere and Nowhere: Anonymity and Mediation in Eighteenth-Century England. University of Minnesota Press, 2018.
Articles
"Intention" in The Oxford Encyclopedia of Literary Theory, ed. John Frow. Oxford University Press (2022): 458-469.
"Lockean Persons, Data Bodies: Metaphor and Dataveillance," Philological Quarterly, 100.3 (2021): 371-391.
"Introduction: Intention and the Eighteenth-Century Text" with Jess Keiser. Studies in Eighteenth-Century Culture, 47 (2018): 209-11.
"Surveillance Studies and Literature of the Long Eighteenth Century." Literature Compass, 14.12 (2017): 1-7.
"Intention and the Eighteenth-Century Text," with Jess Keiser. Introduction and collected essays. Studies in Eighteenth-Century Culture 47 (2017).
"Objects, Numbers, Meaning: The Eighteenth-Century Playbill at Scale" with Mattie Burkert Theatre Journal, 68.4 (2016): 597-613.
"Anonymity, Intention, Motive, and Evelina" English Literary History, 82.4 (2015): 1135-1158.
"Reading (And Not Reading) Anonymity: Daniel Defoe, An Essay on the Regulation of the Press and A Vindication of the Press." Authorship, 4.1 (2015).
"Attribution and Repetition: The Case of Daniel Defoe and the Circulating Library." Eighteenth-Century Life 36.2 (2012): 36-59.
Current Projects
My current book project, Figures of Surveillance, considers technologies of surveillance and the metaphors that underpin them. Metaphor is at the core of surveillance. The most obvious example is that of the Jeremy Bentham's Panopticon (1787) which, via Michel Foucault, becomes the dominant metaphor for understanding televisual surveillance in modernity. My argument in this book is that much like the panopticon and the term surveillance itself, which enters into the English language near the end of the eighteenth century, what makes those metaphors functional in our current moment find their origins in eighteenth-century thought.
Teaching
At UW-Madison I teach undergraduate courses on Restoration and eighteenth-century literature and culture including courses on the eighteenth-century novel, the gothic novel, eighteenth-century drama, gender and sexuality in Restoration and eighteenth-century literature. I also teach digital studies courses on artificial intelligence and digital surveillance. Topics of my graduate courses include: media theory, surveillance studies, 18th-century visual culture, bibliography and digital textuality, and aesthetics.
Recent Books
This innovative collection examines how book history and digital humanities (DH) practices are integrated through approach, access, and assessment. Eight essays by rising and senior scholars practicing in multiple fields—including librarians, literature scholars, digital humanists, and historians—consider and reimagine the interconnected futures and horizons at the intersections of texts, technology, and culture and argue for a return to a more representative and human study of the humanities.

Integrating intermedial practices and assessments, the editors and contributors explore issues surrounding the access to and materiality of digitized materials, and the challenge of balancing preservation of traditional archival materials with access. They offer an assessment in our present moment of the early visions of book history and DH projects. In revisiting these projects, they ask us to shift our thinking on the promises and perils of archival and creative work in different media. Taken together, this volume reconsiders the historical intersections of book history and DH and charts a path for future scholarship across disciplinary boundaries.

Read more

A fascinating analysis of anonymous publication centuries before the digital age

Everywhere and Nowhere considers the ubiquity of anonymity and mediation in the publication and circulation of eighteenth-century British literature—before the Romantic creation of the "author"—and what this means for literary criticism. Drawing on quantitative analysis and robust archival work, it reveals the long history of print anonymity so central to the risks and benefits of the digital culture.

Literary critics, asked to summarize their research, are often asked, 'Who are your authors?' Everywhere and Nowhere cleverly baffles this question and turns our attention to anonymity. Bracketing out the author, Mark Vareschi brings into sight other features of publication: namely, networks of writing and reception and a complex of print and performance. He works impressively with bibliographic records, booksellers' catalogs, advertisements, and paratextual material, like tables of contents. His careful bibliometric work establishes changing percentages of anonymous publication across decades and genres. This is fresh, compelling, detail-rich scholarship and essential reading.

Read more