The English 100 Tutorial Program offers students a chance to meet one-on-one with an experienced instructor outside their own class setting.
The goal of the Tutorial Program is to provide a sounding board for English 100 writers at all levels of expertise and at any point in the writing process for both writing and multimodal projects. When you leave a Tutorial session, we want you to leave with a plan, ready to sit down and tackle that blank page or those tricky revisions.
How do I make an appointment?
To make an appointment with one of the Tutorial co-directors, use the Starfish App on your MyWisc Account.
Log into MyWisc
Search for the Starfish App
Add to home for easy access
Launch the app
Please click this link for more information on using Starfish to schedule appointments.
At present, we offer all appointments online, and we have two appointment types: (1) synchronous video chat and (2) asynchronous written feedback. If you cannot find a time on our schedule that works, please email us and we will try our best to work with you. We are very eager to work with English 100 students!   <100tutorial[at]english.wisc.edu>

What should I know when I schedule an appointment?
This may be the first time you have discussed your writing in a one-on-one setting. Many students find Tutorial sessions helpful, scheduling ongoing appointments throughout the semester. We are happy to meet with students for one 30-minute session per week. Students can schedule appointments up to three weeks in advance.
We offer support for both writing and multimodal projects:
Planning and drafting: understanding assignment prompts and grading rubrics, brainstorming main ideas, generating topics and thesis statements, planning design elements, etc.
Revising: working on organization or "flow," refining arguments, sentence-level polishing
Reviewing and responding to instructor comments
Developing questions or comments to share with your E100 instructor
Our goal is to serve as a second set of eyes for your English 100 writing assignments at all stages of your writing process (from brainstorming to rough drafts).
How should I prepare for my appointment? What should I do during my Tutorial session?
You should bring your draft (a google doc works great!), assignment description, relevant writing (brainstorming, outline, handouts), and questions. You should also bring a method of note-taking as we read your draft (pen and paper, electronic note taking system, etc).
Tutorial sessions are led by your writing questions. Depending on your draft stage and questions, we may ask you to read your writing out loud. Other times, we may brainstorm together, we may coach you on independent revision strategies, or we may even ask you to do a few minutes of free writing. We can typically get through about five pages of writing per session. If your draft is longer, we will likely focus on sections of your paper as they are connected to your revision questions.
Who will meet with me?
English 100 Tutorial sessions are led by Co-Directors  Nattaporn Luangpipat and Mary-Kate Weaver Keran. We both have experience as English 100 Instructors, Writing Center Tutors, and have taught intermediate writing classes within the English Department.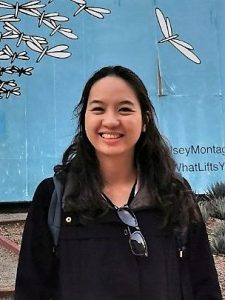 Nattaporn Luangpipat is a dissertator in the Composition and Rhetoric program in the English Department. Her areas of interest are literacy, visual rhetoric, multimodal composition, writing and its positive impacts, and sociolinguistics. She has worked with students from various backgrounds and enjoys working with them at any stage of their writing.
Mary-Kate Weaver Keran is a third-year doctoral student in UW-Madison's Composition and Rhetoric program. She loves teaching, talking, reading, and writing about teaching, talking, writing, reading, communication, and language. She is interested in multimodal composition and linguistic rights, resources, and diversity. She has previously taught English 100 and worked in writing centers. This is her second year serving as co-director of English 100 Tutorial. She is excited to get to know you virtually this semester!
You can make an appointment through the Starfish app (see above) and reach the English 100 Tutorial by email: 100tutorial[at]english.wisc.edu