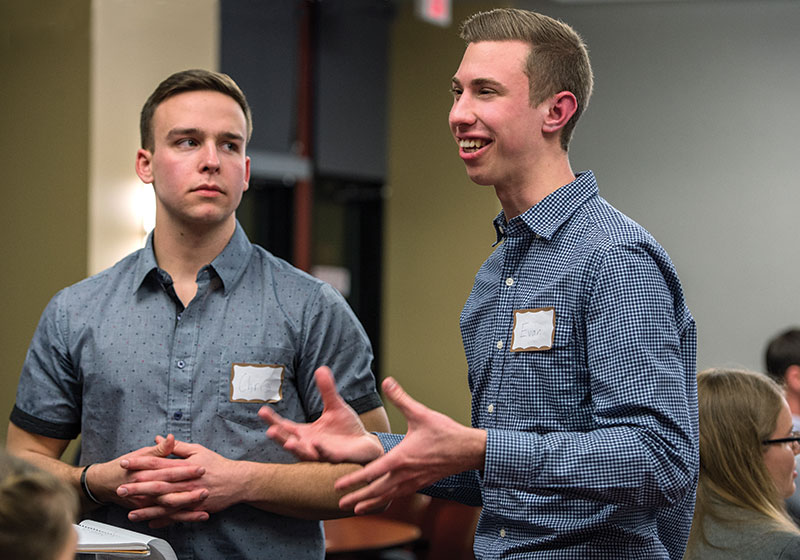 How can English majors help solve problems in the real world? When alumni Chris Houben (then a senior) signed up for the BEST Challenge, he wasn't quite sure. "I jumped into the cold water not knowing what to expect," Chris says. "I wanted to turn my weakness, the fear of the unknown, into a strength." This round of the BEST Challenge invited students in English and Business collaborate on proposal to address the problem of homelessness in Madison. The details of the solution would materialize around the mixture of adventurousness and altruism that Chris brought the challenge.
Chris and his partner from the Business school, Evan Warwick, won the 2017 challenge with Remainder Round-Up (R2U). R2U invites customers of local businesses to "round up" the cost of their purchases to the nearest dollar. Each vendor participating in the program contributes the aggregate amounts to health service providers for homeless individuals. Chris theorized that the program would allow these small-scale donations to optimize their impact by funding programs that treat "the most immediate and time-sensitive symptoms of homelessness," thereby alleviating to some extent the physical and mental health crises that punctuate the cycle of homeless vulnerability.
While collecting data from local vendors and charitable organizations was a major aspect of Chris and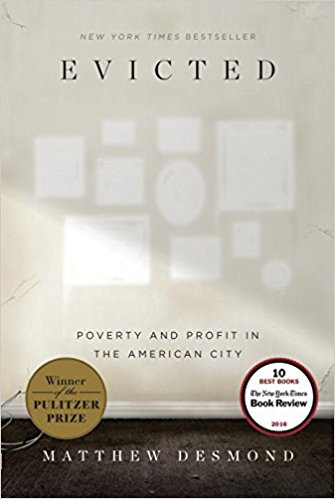 Evan's research, literature also helped Chris and Evan think broadly about the rhetorical context of R2U. Their biggest challenges would be making R2U visible to UW-Madison students, and motivating them to participate. Chris theorizes that Matthew Desmond's 2016 book Evicted: Poverty and Profit in the American City constituted an important point of reference for students' consciousness of poverty. As a campus Go Big Read selection, Chris knew that the marketing of R2U could draw on the conversations surrounding this Pulitzer-prize winning book.
But it was the thinking modeled in Levitt and Dubner's 2005 Freakonomics that helped the pair develop their call to action. The "high-octane, high-tempo," nationally acclaimed treatise on economics and social behavior helped Chris and Evan streamline their model. "Simple math by the consumer, social pressure, and relevant issues to the target demographic were all theories I hypothesized we could optimize for a greater donation return," Chris says. By advertising R2U at sporting events and registration weekend, their campaign would cast a huge net, and the actual program would make it easy for people to donate at points of sale around campus.
The pair's response to the challenge was also visibly influenced by an empathic, other-oriented outlook and respect for the humanity of homeless individuals. Reaching out to organizations specializing in drug, alcohol, domestic abuse, and tenant resources led Chris to appreciate his privileges in new ways. R2U works to extend the privilege of social inclusion that people like Chris and Evan enjoy, to others. "We realized what we took for granted: judgment-free friends to talk to, someone who understands us. We wanted to deliver that same right to the homeless population," he says. In addition to addressing health needs, the program would secondarily treat the social isolation accompanying homelessness.
After graduating and winning the BEST challenge, Chris left Madison to complete his active duty commitment to the US-Navy. He plans to return to Madison to teach, and "hopefully ignite the flame to create change in some of my students." In many ways, the BEST challenge showed Chris how one might act to create change. "The challenge exemplifies how much aggregate good can be won if we work together as communities," he says. "By making the lives of those around us better, we make the world a better place to live in."
The BEST Challenge for spring 2018 asks students to propose a project to help Madison win the Big 10 Voting Challenge- stay tuned!
by Lauren Hawley