Written by Kaydian Campbell
In honor of the anniversary of William Shakespeare's death (1616-2016), fondly dubbed "The year of Shakespeare," the Folger Shakespeare Library graciously sent several of their First Folios (the first printing of Shakespeare's plays in 1623) to libraries and museums across the Continental United States.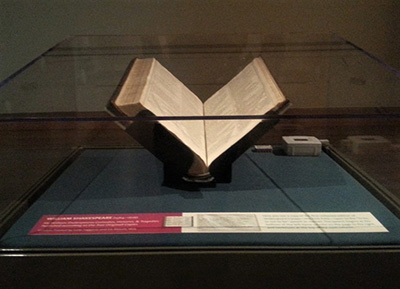 The University of Wisconsin-Madison had the honor of hosting the one copy of the First Folio in partnership with the Chazen Museum and the Special Collections department at Memorial Library. Both the libraries and the Chazen Museum hosted complementary events in support of the First Folio exhibit: "First Folio! The Book that Gave Us Shakespeare," giving the entire community a chance to engage with the book, its content and the culture of Shakespeare. At no other time have I ever seen the "Wisconsin Idea" practiced so intently and with such fervor as with the coming of the First Folio; it seemed to me that the entire community was a part of the campus and our celebration of Shakespeare's little book.
The First Folio sat under a glass case on its altar in the center of a room, displaying Hamlet's famous soliloquy: "To be, or not to be." Patrons would cautiously approach the book, and look on with reverence, speaking in hushed voices until they moved into another exhibit. With every pilgrimage I made to see the Folio and its accompanying exhibits, there was a flock of high school students, a sprinkling of retirees, and the everyday Joe, intently meditating on posters of King Hamlet's skull, Titus Andronicus's meat dish, and William Shakespeare strolling through Central Park in 80s fashion.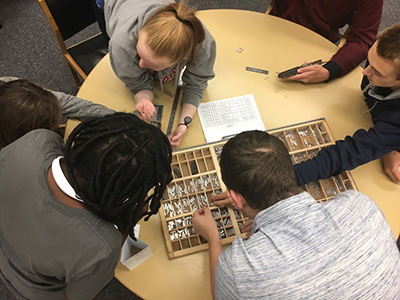 Not to be outdone, Special Collections hosted copies of the second, third, and fourth printings of the Folio, which they displayed with other books and objects related to the global culture of Shakespeare. My students had a chance to interact with our copy of the Second Folio (1632) at Special Collections before it was put under its own glass case, and it was delightful to see the curiosity with which they approached the book when they had a chance to hold it in their hands.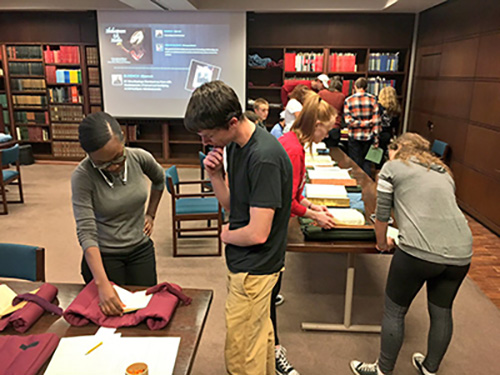 Images courtesy of Kaydi Campbell