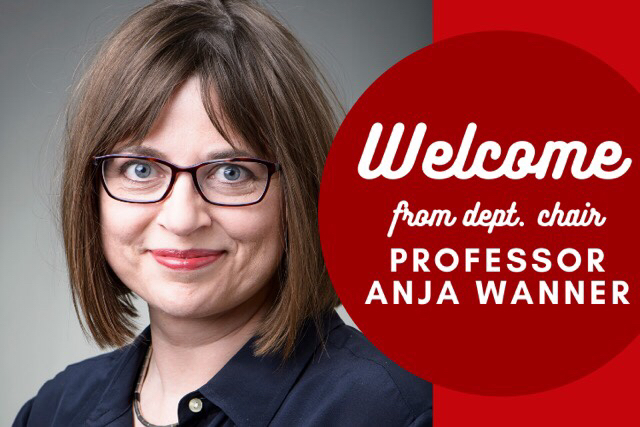 Welcome to the Department of English at the University of Wisconsin-Madison!
As department chair, I am privileged to work with outstanding faculty, staff, and students to shape humanistic inquiry and deep learning at one of the world's leading public research universities.
Our department is central to the mission of the College of Letters at the University of Wisconsin-Madison. We provide gateway instruction in literature and composition to more than 10,000 undergraduates every year, both in large lecture classes and in small writing-intensive classes for first-year students. Our students learn from the best — no department on campus has more teaching award winners than the Department of English. We are also proud to be the home of the Writing Center, which offers individualized instruction to more than 6000 students every year, and the ESL program for international students.
Our English Major, with its tracks in literary studies, creative writing, and English language and linguistics, teaches students to use the English language and literature written in different varieties of English for critical thinking, effective communication, and purposeful action. Students can take classes on a wide range of subjects, including literature and medicine, literature and law, literature and social justice, the rhetoric of science and media, language variation and change, as well as workshops in poetry and fiction. Our graduates have successful careers as writers, teachers, analysts, managers, community organizers, or communication specialists.
The graduate Program in English is consistently ranked as one of the best in the country and offers an experience that is both rigorous and supportive. It offers distinct tracks focused on Literary Studies, Linguistics, and Composition and Rhetoric. Our MFA program in Creative Writing, ranked among the top five in the nation, connects students with a vibrant community of writers in Madison and a wide network of fellows and alums. Graduate study in English at UW-Madison prepares students for a range of future careers. Former students teach at top colleges and research universities, nationally and internationally. They direct writing centers and administer humanities centers. They teach at private high schools and community colleges, and they work in the non-profit and private sector using their research and teaching to shape knowledge and create a more just society.
The department has a longstanding commitment to cutting-edge interdisciplinary research, both in traditional areas, like Medieval Studies and American Studies, and in newer fields, like the Environmental Humanities and Global Black Literatures, in which the department has hired many new faculty. Students across the graduate program participate in collaborative research workshops and colloquia; they receive mentorship from arrival in Madison through to job placement; and they engage in all parts of the department's inclusive intellectual culture.
Through our course offerings, strategic decision making, as well as in our daily interactions, we strongly support the university's commitment to diversity as a source of strength, creativity, and innovation.
If you are thinking about joining us, do not hesitate to get in touch.
Sincerely,
Anja Wanner
Department Chair and Eccles Professor of English
awanner@wisc.edu