Poet. Scholar. Teacher. Alicia Ostriker has hit all these marks and more since earning her PhD in English from UW–Madison in 1964.
Alicia's first collection of poems, Songs, was published in 1969. Over the intervening decades, she has produced more than a dozen books of her poetry and works of criticism covering topics ranging from William Blake to the Bible, with Feminist Revision and the Bible (Blackwell, 1993). Her most recent collection of poems, Waiting for the Light (University of Pittsburgh Press), was published in 2017. A Professor Emerita of English at Rutgers, Alicia is currently on the faculty at Drew University, teaching in its Low Residency Poetry MFA program.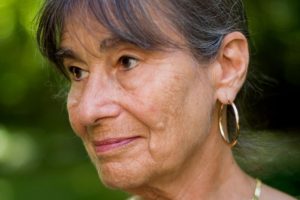 Twice nominated for the National Book Award, Alicia has won the Jewish Book Award for Poetry and the William Carlos Williams Award of the Poetry Society of America, among her many accolades. Her fourth book of poetry, The Mother-Child Papers (1980), is considered a feminist classic. Robert Phillips writes in The Hudson Review that Ostriker is "one of our finest poets," who "writes poems born of tragedy and illness…poems of sheer joy" that are "fresh, brave, unself-pitying." The Jewish Women's Archive has characterized her as a "feminist revolutionary" whose contributions to literary criticism are "full of passionate daring and personal hutzpa."
Speaking of her writing to Contemporary Authors, Alicia said: "Composing an essay, a review or a piece of literary criticism, I know more or less what I am doing and what I want to say. When I write a poem, I am crawling into the dark. Or else I am an aperture. Something needs to be put into language, and it chooses me. I invite such things."
Alicia Ostriker received the 2018 Distinguished Alumni Award on her visit to UW–Madison in April. While on campus, Alicia conducted a Masters Class for Creative Writing students, and read selections from her poetry at the annual English Department Majors award ceremony. The award was established by the English Board of Visitors to recognize alumni who have made exemplary use of their UW English education.