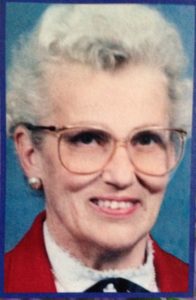 A passion for literature and writing as well as a desire to share this passion through teaching—this is what is looked for in the recipient of the Dorothy Classen Urish Scholarship. This scholarship was created in 2013 by Jack Urish (BS '70 English) in honor of his mother, who taught English and Latin in Paw Paw, Illinois and later at Stoughton High School in Wisconsin. In addition to his success in the business world (and he would say contributing to this success), Jack continues to be an avid reader and works to maintain a "Great Books" reading group in Dallas, Texas.
We reached out to this year's winner of the Urish Prize, Angela Ramos, to learn more about her experience and how the prize has helped her.
Tell us a little about yourself. What is your background, and what drew you to English as a major?
I started writing creatively at a young age. Early in college, I discovered I'm one of those weirdos who truly enjoys writing academic papers, particularly literary analyses. Opportunities to network and hone my writing skills drew me to the pursuit of a degree in English.
One of your goals is to go into teaching. What makes this goal so important to you?
Teaching is a way for me to connect with people and provide them with tools they can use to attain success, whatever that means for them. I've been lucky enough to find my way back into academia after a long hiatus, and I am thriving. My experience has inspired me to want to be a motivator and facilitator for others.
You've taken an unconventional route toward higher education. In what ways does your journey lend you a different perspective on education, or being educated, whether as a student or a future teacher?
I've ducked in and out of collegiate institutions for 18 years and can say the value of education directly corresponds with one's seriousness and devotion. I can also say that while I greatly appreciate scholarly environments, they are not the only places where learning happens and aren't for everyone nor do they provide any guarantees. There's more than one way to approach any endeavor, which includes how we write and communicate, what it means to be effective with one's words. With this, I try to maintain a high regard for others, whatever their background; to refrain from judgment; and keep an open mind, always.
How do you see your studies in English contributing to your interest in teaching?
Part of my goal as a teacher is to expand the limits of what qualifies as academic work, particularly in regards to writing style, in order to increase accessibility and representation for everyone. In learning about everything from the nuances of Nabokov to the sociological effects of a standardized English, I can appreciate a variety of mediums and support a number of perspectives.
What has been your favorite English class so far and what did you enjoy about it?
History of English with Prof. Jordan Zweck was awesome. Through the material we covered, I was better able to formulate my views on the English language, including an appreciation for the fact that English has been driven by people's usage, not by the rules they're told to follow. I found this to be an empowering revelation.
What does the Urish prize mean to you or what has it enabled you to do?
The Urish Prize helps make it possible to go to school full time without also having to work full time. This allows me to focus on school and my children to the extent they deserve. Being a returning adult student and a parent has meant a lot of sacrifice, particularly in regards to my time. Regaining any of that to share with my family is beyond value.
---
Past winners of the Urish Prize:
2013    Melissa Martin
2014    Jordan Filerman
2015    Abigail Burns
2016    Danielle Woodall