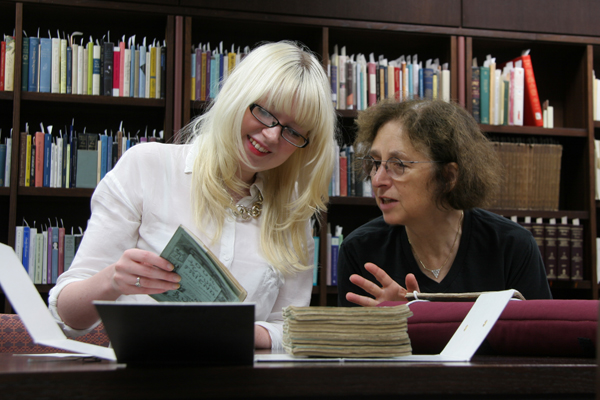 "Don't be a gopher."
Those instructions, offered to the recipients of the Welton Honors Summer Sophomore Research Apprenticeship Grant, may sound like a warning to stay away from the University of Minnesota, but in fact speak to the spirit of a unique Badger program, now in its 21st year, which offers driven undergraduates the unique opportunity to carry out their own research.
Brontë Mansfield ('15), one of those 27 students who participated this past summer, spent a lot of her time getting comfortable in Memorial Libraries Special Collections. Under the direction of Susan Bernstein, Professor of English and the Director of Graduate Studies in English, Mansfield spent approximately 20 hours a week in Special Collections with an original copy of the serial parts of Our Mutual Friend, which recently resurfaced in the University collection.
Mansfield, whose double major in English and Art History allows her to explore her interest in Victorian visual culture, enrolled in Bernstein's undergraduate seminar on the Victorian marriage plot in the Spring semester of this year.
"Brontë spoke with me early in the spring semester about her interest in doing research in Victorian literature; when she said she was in the Honors Program, I mentioned the Summer Sophomore Research Apprenticeship Grant," says Bernstein.
Bernstein and Mansfield worked together to write an application for the Welton apprenticeship, which is funded by the Welton Family, Kemper Knapp, and the Brittingham Trust.  In addition to writing a personal statement outlining her motivations for applying to the summer program, Mansfield also got first hand experience with grant writing. Both she and Bernstein had to outline how they would work together and what Mansfield's individual project would be.
While Bernstein's research investigates Victorian seriality and reading, Mansfield was able to focus primarily on the advertisements that populate the pages of Dickens' serial text.
Mansfield also works as the assistant to the Curator of Prints, Drawings, and Photographs in the Chazen Museum. With her combined academic interests, she was an ideal candidate to catalog and investigate the images.
"With the new technology that's being used for textual analysis, the visual doesn't necessarily get accounted for. There are 32 pages of advertising in addition to 32 pages of text, so it's important to combine a historical, visual interpretation of those images with an understanding of the literary text itself," says Mansfield.
For her, one of the best things about the summer project was the time it allowed for her to focus on one topic.
"I learned a lot with not being as rushed, and having the time to devote to a single thing. I got to practice what individual research means. It isn't just regurgitating previous scholarship."
Part of that individual research is the task of presenting findings to others not in your field. All 27 participants gather for a day-long retreat at the end of the summer to discuss research methods. Mansfield used Mad Men as a way to explain nineteenth-century seriality to the others in the retreat.
"I was the only student from the humanities and for the presentations, I was paired with a student who was studying potato genetics. A lot of what he said about his findings was over my head, but it was helpful to see how someone else does their research."
In discussing the program, Bernstein highlights the benefits for students and professors alike: "At least a full year before an undergraduate major might frame a senior thesis project, she has this opportunity to learn what research in literary studies entails by pursuing a topic, exploring an archive or body of materials, and experimenting with hypotheses about these materials—not unlike students working in other kinds of labs across campus. It's a chance to collaborate with a seasoned researcher too, and, as I've discovered, there are benefits all around."
For more information on Welton Summer Apprenticeship, visit http://www.honors.ls.wisc.edu/SiteContent.aspx?prev=1&id=48
For more information about Susan Bernstein's work on the Victorian Serialization Project, visit http://english.wisc.edu/victorianserialization/