David A. Zimmerman
Position title: Elizabeth Ritzmann Professor of English; Director of Undergraduate Studies
Email: dazimmerman@wisc.edu
Address:
7185 Helen C. White Hall
Interests

19th- and 20th-century U.S. literature, with an emphasis on the 19th-c. American novel; economics and literature; moral philosophy and narrative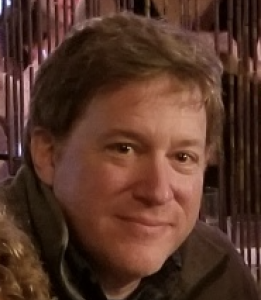 Degrees and Institutions
PhD, University of California, Berkeley 2000
M.Ed., George Washington University, 1992
BA, Yale University, 1986
Selected Publications
Books
Panic! Markets, Crises, and Crowds in American Fiction. University of North Carolina Press, 2006.
During the economic depression of the 1890s and the speculative frenzy of the following decade, Wall Street, high finance, and market crises assumed unprecedented visibility in the United States. Fiction writers published scores of novels in the period that explored this new cultural phenomenon. In Panic!, David A. Zimmerman studies how American novelists and their readers imagined–and in one case, incited–market crashes and financial panics.
Panic! examines how Americans' attitudes toward securities markets, popular investment, and financial catastrophe were entangled with their conceptions of gender, class, crowds, corporations, and history. Zimmerman investigates how writers turned to mob psychology, psychic investigations, and conspiracy discourse to understand not only how financial markets worked, but also how mass acts of financial reading, including novel reading, could trigger economic disaster and cultural chaos. In addition, Zimmerman shows how, by concentrating on markets in crisis, novelists were able to explore the limits of fiction's aesthetic, economic, and ethical capacities. With readings of canonical as well as lesser-known novelists, Zimmerman provides an original and wide-ranging analysis of the relation between fiction and financial modernity.
For more information about Panic!, go to www.uncpress.unc.edu.
Articles
"Structure, Network, Apocalypse: The Complicity Fiction of George Lippard." J19 6:2 (Spring 2018).
"Complicity, Restorative Justice, and Charles Brockden Brown's Arthur Mervyn." Arizona Quarterly 72:3 (Winter 2016).
"Charles Brockden Brown and the Conundrum of Complicity." American Literature 88:4 (December 2016): 665-93.
"Novels of American Business, Industry, and Consumerism." Cambridge History of the American Novel. Cambridge University Press, 2011. 409-26.
"Commentary: Literature and Economic Crisis." American Literary History 23:1 (Spring 2011): 56-68.
"Text, Sex, Talk, Taint: Early Theorizations of Linguistic Complicity in the United States." Text and Meaning: Hermeneutics and Beyond. Düsseldorf: Düsseldorf University Press, 2010. 149-68.
"The Financier and the Ends of Accounting." Dreiser Studies 35 (Winter 2004): 3-28 [2004 Dreiser Essay Prize Winner]
"Frank Norris, Market Panic, and the Mesmeric Sublime." American Literature 75 (March 2003): 61-90.
"Mark Twain, 'Hadleyburg,' and the Performance of Redemption." ESQ 48 (4th Quarter) 2002: 274-98.
"Six Degrees of Distinction: Connection, Contagion, and the Aesthetics of Anything." Arizona Quarterly55 (Autumn 1999): 107-133. Repr. Drama Criticism 20 (June 2003): 142-55.
Research Interests
Nineteenth-century American literature; economic fiction; moral philosophy; consent theory; conspiracy and the novel.
Work in Progress
Infectious Designs offers the first full-length study of antebellum Americans' struggle to understand and represent what it means to be morally complicit, or party to a crime, wrong, or injustice. Focusing on literary writers, abolitionists, early feminists, and religious propagandists, it studies how antebellum Americans labored to answer a set of moral questions that shaped every major political, social, and religious movement in the decades between the Revolutionary and Civil Wars: What does it mean to be morally implicated in the production or perpetuation of wrongdoing or evil? What happens to the notion of individual responsibility when we view persons as members of or players within larger social aggregations such as organizations, economic classes, and political structures? In a highly interdependent social and economic world, who does not contribute to or benefit in some way from a crime, wrong, or injustice?
Courses Taught
"Thomas Pynchon"; "The American Novel after 1965"; "Imagining Apocalypse"; "Time Travel" (a.k.a. Introduction to American and British Literature aftter 1900); "Counterfeits, Passers, and Posers" (a.k.a. Introduction to American and British Literature after 1900); "Monsters and Ghosts" (a.k.a. Introduction to American and British Literature before 1900); "Enchanted Objects" (a.k.a. Introduction to American and British Literature after 1900); "Misfits and Mass Culture" (a.k.a. Introduction to Modern American Literature); "The American Novel before 1914"; "American Literary Naturalism"; "American Literary Gothic"; "Crane, London, Dreiser"; "Wharton, Jewett, Norris"; "Modern American Literature and the Scripting of Everyday Life." Graduate seminars: "Literature Pedagogy"; "American Capitalism and its Discontents";  "Literature and Blame"; "Conspiracy and 19th-Century American Literature"; "American Literature and the Marketplace before 1914."
Favorite Books
Thomas Pynchon, Gravity's Rainbow; Marilynne Robinson, Housekeeping; F. Scott Fitzgerald, The Great Gatsby
Songs about Literature
Prof. Zimmerman writes songs about the literature he teaches and performs them for his lecture students. Here are a few of them. Take a listen!
Entropy's Daughter (on The Crying of Lot 49)
I'll Pass (on Dracula)
Blessings (based on the Ron Wallace poem, "Blessings," with his permission)
Zimmerman writes pop songs, too. Here are a few.
The Big Bailout (on the 2008 financial crisis)
Recent Books
A Nota Bene selection of The Chronicle of Higher Education

During the economic depression of the 1890s and the speculative frenzy of the following decade, Wall Street, high finance, and market crises assumed unprecedented visibility in the United States. Fiction writers published scores of novels in the period that explored this new cultural phenomenon. In Panic!, David A. Zimmerman studies how American novelists and their readers imagined–and in one case, incited–market crashes and financial panics. Panic! examines how Americans' attitudes toward securities markets, popular investment, and financial catastrophe were entangled with their conceptions of gender, class, crowds, corporations, and history. Zimmerman investigates how writers turned to mob psychology, psychic investigations, and conspiracy discourse to understand not only how financial markets worked, but also how mass acts of financial reading, including novel reading, could trigger economic disaster and cultural chaos. In addition, Zimmerman shows how, by concentrating on markets in crisis, novelists were able to explore the limits of fiction's aesthetic, economic, and ethical capacities. With readings of canonical as well as lesser-known novelists, Zimmerman provides an original and wide-ranging analysis of the relation between fiction and financial modernity.

Read more