Timothy Yu
Position title: Martha Meier Renk-Bascom Professor of Poetry
Email: tpyu@wisc.edu
Address:
7137 Helen C. White Hall
Interests

Modern and contemporary American literature; contemporary poetry; Asian American literature and culture; the avant-garde; race in American literature; diaspora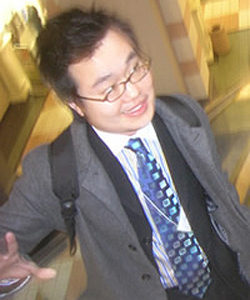 Degrees and Institutions
Ph.D., English and American Literature, Stanford University, 2005
AB, Social Studies and English and American Literature and Language, Harvard University, 1996
Selected Publications
Race and the Avant-Garde: Experimental and Asian American Poetry since 1965.  Stanford: Stanford University Press, 2009.
"Oriental Cities, Postmodern Futures: Naked Lunch, Blade Runner, and Neuromancer." MELUS 33.4: 45-73.
"Traveling Genres and the Failure of Asian American Short Fiction."  Genre 39.4: 23-41.
"'The Hand of a Chinese Master': José Garcia Villa and Modernist Orientalism."  MELUS 29.1: 41-59.
"Form and Identity in Language Poetry and Asian American Poetry."  Contemporary Literature 41.3: 422-61.
Journey to the West.  Winner of the Vincent Chin Memorial Chapbook Prize.  Barrow Street Winter 2006: 51-67.
Personal Statement
My current book project, Diasporic Poetics, examines English-language poets of Asian descent working around the Pacific Rim—in the United States, Canada, the Philippines, and Australia.  I argue that these poets have developed a distinctive poetics that exceeds our current paradigms of race, nation, and diaspora.  The Chinese Canadian poet Fred Wah borrows a Japanese form, the haibun, for his autobiographical poems, while the Chinese Australian poet Ouyang Yu translates Chinese poetry through the American idiom of the New York School.  Such lateral, cross-cultural borrowings are what I call strategies of adaptation—appropriations of existing styles, modes, and content from widely varied sources that articulate the poet's distinctive location within national and transnational cultures.  The project draws on interviews and archival work while offering a theoretical model that bridges diasporic and ethnic studies paradigms.
Recent Books
This book advances a new concept of the "Asian diaspora" that creates links between Asian American, Asian Canadian, and Asian Australian identities. Drawing from comparable studies of the black diaspora, it traces the histories of colonialism, immigration, and exclusion shared by these three populations. The work of Asian poets in each of these three countries offers a rich terrain for understanding how Asian identities emerge at the intersection of national and transnational flows, with the poets' thematic and formal choices reflecting the varied pressures of social and cultural histories, as well as the influence of Asian writers in other national locations. Diasporic Poetics argues that racialized and nationally bounded "Asian" identities often emerge from transnational political solidarities, from "Third World" struggles against colonialism to the global influence of the American civil rights movement. Indeed, this volume shows that Asian writers disclaim national belonging as often as they claim it, placing Asian diasporic writers at a critical distance from the national spaces within which they write. As the first full-length study to compare Asian American, Asian Canadian, and Asian Australian writers, the book offers the historical and cultural contexts necessary to understand the distinctive development of Asian writing in each country, while also offering close analysis of the work of writers such as Janice Mirikitani, Fred Wah, Ouyang Yu, Myung Mi Kim, and Cathy Park Hong.

Read more

From Les Figues Press:

There are one hundred kinds of Chinese silence: the silence of unknown grandfathers; the silence of borrowed Buddha and rebranded Confucius; the silence of alluring stereotypes and exotic reticence. These poems make those silences heard. Writing back to an orientalist tradition that has defined modern American poetry, these 100 Chinese silences unmask the imagined Asias of American literature, revealing the spectral Asian presence that haunts our most eloquent lyrics and self-satisfied wisdom. Rewriting poets from Ezra Pound and Marianne Moore to Gary Snyder and Billy Collins, this book is a sharply critical and wickedly humorous travesty of the modern canon, excavating the Asian (American) bones buried in our poetic language.

Read more

A groundbreaking study of contemporary American poetry, Race and the Avant-Garde changes the way we think about race and literature. Examining two of the most exciting developments in recent American writing, Timothy Yu juxtaposes the works of experimental language poets and Asian American poets—concerned primarily with issues of social identity centered around discourses of race. Yu delves into the 1960s social upheaval to trace how Language and Asian American writing emerged as parallel poetics of the avant-garde, each with its own distinctive form, style, and political meaning. From its provocative reevaluation of Allen Ginsberg to fresh readings of Ron Silliman, Theresa Hak Kyung Cha, and John Yau, along with its analysis of a new archive of Asian American writers from the 1970s, this book is indispensable for readers interested in race, Asian American studies, contemporary poetry, and the avant-garde.

Read more