Mary Trotter
Position title: Associate Professor, English and Director of Interdisciplinary Theatre Studies
Email: mary.trotter@wisc.edu
Interests

Modern Irish theatre, reflecting her larger interests in political performance, theatre and identity, gender and/in performance, transatlantic theatre and culture in the nineteenth and twentieth centuries, and historiography.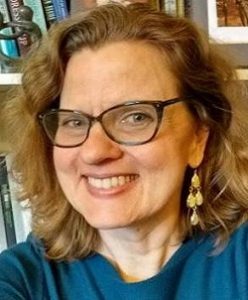 Degrees and Institutions
PhD, Northwestern University, 1996
MA, University of Texas, Austin, 1992
BA, Emory University
Biography and Current Projects
Mary Trotter is an Associate Professor of English and Interdisciplinary Theatre Studies. She is the author of two monographs: Ireland's National Theaters: Political Performance and the Origins of the Irish Dramatic Movement (Syracuse 2001) and Modern Irish Theatre (Polity 2008). Her current research project, "Actresses and Activists: Feminism, Nationalism and Theatricality in Early Twentieth-Century Ireland," examines the ways several notable Irish women negotiated the relationship between their labor as theatre performers and their political activism during a period rife with social and political change, locally and internationally. She is also starting new work on theatre and identity in nineteenth-century American and European theatre. She enjoys teaching theatre history, dramatic literature and Irish Studies courses at the undergraduate and graduate levels. Her service to the university and profession include: Founding Director for the Interdisciplinary Theatre Studies Program (2014-2018) Editorial Advisory Board Member for Modern Drama (2007-Present), and President of the American Conference for Irish Studies (2013-2015).
Courses Taught
English/TD 120 Introduction to Theatre and Dramatic Literature
English/TD 224 History of Theatrical Production
TD 231 Literary Adaptation and Celtic Film
TD 431 History of Theatres and Staging
English/TD 534 American Drama and Theatre to 1900
TD 619 Modern Irish Theatre
TD 619 Gender and Sexuality in Irish Theatre
TD 700 Proseminar in Theatre Research
TD 731 Advanced Research in Theatre History to 1700
TD 732 Advanced Research in Theatre History, 1700 – Present
TD 911 Graduate Seminar, Theatre Historiography
TD 911 Graduate Seminar, The Irish Dramatic Movement