Amanda Shubert
Position title: Associate Lecturer
Email: ashubert@wisc.edu
Interests

Victorian Literature, Visual Culture, and Media; Film Studies; Media Studies and Media Archaeology; Visual Studies; Psychoanalysis; Critical Theory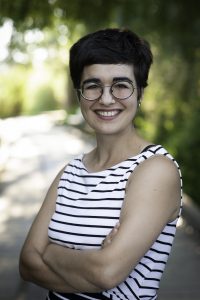 DEGREES AND INSTITUTIONS
PhD University of Chicago, 2019
M.A. University of Chicago, 2014
B.A. Oberlin College, 2010
PERSONAL STATEMENT
I am a Research Associate and Associate Lecturer of English and Communication Arts at UW-Madison, where I teach and write about nineteenth-century British literary, visual and media cultures, from the rise of the novel to the invention of cinema. I am currently at work on a book that explores the role of Victorian fiction in the emergence of cinema by examining fiction's relationship to pre-cinematic media like magic lanterns, stereoscopes, and moving image toys. My research has been supported by fellowships and grants from the Social Science Research Council, the Nicholson Center for British Studies at the University of Chicago, and the Franke Institute for the Humanities at the University of Chicago. I am also the 2017 winner of the Walter Arnstein Prize for Dissertation Research in Victorian Studies from the Midwest Victorian Studies Association. From 2019-2020, I was the Lindsay Family Humanities Postdoctoral Fellow at the University of Chicago.
PUBLICATIONS
Refereed Journal Articles
2020    "'A Bright Continuous Flow': Phantasmagorical History in A Tale of Two Cities." Victorian Literature and Culture, in press.
Book Chapters
2015     "Conversations with Pauline Kael." In Talking About Pauline Kael. Edited by Wayne Stengel (New York: Rowman and Littlefield, 2015), 159-169.