Amanda Shubert
Position title: Lecturer and Researcher
Email: ashubert@wisc.edu
Interests

Victorian Literature, Visual Culture, and Media; Film Studies; Media Studies and Media Archaeology; Visual Studies; Psychoanalysis; Critical Theory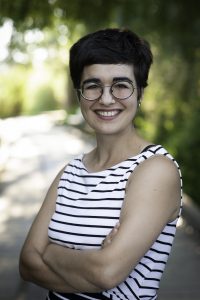 DEGREES AND INSTITUTIONS
PhD University of Chicago, 2019
M.A. University of Chicago, 2014
B.A. Oberlin College, 2010
PERSONAL STATEMENT
I am a Lecturer and Researcher of English and Film Studies with a joint appointment in the Departments of English and Communication Arts. I teach and write about Victorian literary and visual culture, early film, and the history of empire. My current book project, Seeing Things: Virtual Aesthetics in Victorian Culture, traces the emergence of virtual aesthetics—a mode of aesthetic experience grounded in the visual perception of things that are not really there. Between 1830 and 1900, a period that spans the rise of optical technology as mass culture and the emergence of cinema, "seeing things" was defined as an enlightened mode of spectatorship and paradigmatic media aesthetic of western modernity. During this period, the virtual aesthetics of optical media offered a framework for novelists seeking to describe the effects of reading on the mind, imperialists who wanted to make the far-flung colony visible to citizens who would never leave the metropole, and nineteenth-century historians attempting to resurrect the past in the present.
I am also at work on two new projects. The first, a media history of remote control before the invention of the TV remote, asks how nineteenth- and twentieth-century visual and technological media were imagined to manipulate thought and behavior, transform environments, and execute actions of their own accord. A second project is a cultural history of the Baghdadi Jews of India, a diaspora of Ottoman Empire Jews living under the British Raj. As a descendent of this community, and the daughter and granddaughter of Indian immigrants, I weave family stories and photographs with archival research, personal meditations on raced and gendered identity with postcolonial, transnational, and feminist theory to tell the story of this community between 1792 and 1953.
I teach BA courses in the Departments of English and Communication Arts on topics like the nineteenth-century novel, women's writing, global film, history of animation, and the literature and media of empire. I also teach independent studies at the PhD level. You can read more about my scholarship and teaching at www.amandashubert.com.
PUBLICATIONS
"In Defense of Credulous Women: Magic and Optical Spectatorship in Cranford." Victorian
Studies, Vol. 63, No. 3 (Spring 2021).
"Contracts for a Time of Crisis: What I Learned from Grading in a Pandemic." Nineteenth-Century
Gender Studies, Vol. 16, No. 4 (Spring 2021).
"'A Bright Continuous Flow': Phantasmagoria and History in A Tale of Two Cities." Victorian
Literature and Culture, Vol. 48, No. 4 (Winter 2020).
"Conversations with Pauline Kael." In Talking About Pauline Kael. Edited by Wayne Stengel. New
York: Rowman and Littlefield, 2015. 159-169.