Eric Raimy
Position title: Marjorie and Lorin Tiefenthaler Professor of English
Email: raimy@wisc.edu
Address:
7123 Helen C. White Hall
Interests

cognitive science, generative grammar, phonology, morphology, phonetics, syntax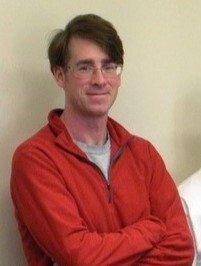 Degrees and Institutions
PhD Linguistics, University of Delaware, 1999
MA Linguistics, University of Delaware, 1997
BA Linguistics and Philosophy, University of Toronto, 1993
Selected Publications
The phonology and morphology of reduplication (2000, Mouton de Gruyter)
Contemporary views on architecture and representation in phonological theory (2009, MIT Press) edited with Charles Cairns.
The Handbook of the Syllable (2011, Brill) edited with Charles Cairns.
Wisconsin Talk: Linguistic Diversity in the Badger State (2013, UW Press) edited with Tom Purnell and Joe Salmons.
The Segment in Phonetics and Phonology (2015, Wiley) edited with Charles Cairns.
Current Research
There are two projects continuing my work on reduplication. The first is a collaboration with Bill Idsardi (University of Maryland) on a book that contains our work on computational aspects of reduplication, reduplication in Sanskrit and artistic uses of these formalisms in rhyme, alliteration and ludlings. The second reduplication based project is developing a database of reduplication patterns found in the world's languages.
The second project consists in my participation in the Wisconsin Englishes Project with Tom Purnell and Joe Salmons. We document local dialect variation and use this new data to inform linguistic theory. One long over due project is a book about modularity in phonology.
Teaching
I teach mostly undergraduate courses in the English Language and Linguistics section on sociolinguistics, phonology and general linguistic analysis of novel data. I will also occasionally teach courses on English morphology and syntax, second language phonology and advanced phonology.
Recent Books
The essays in this volume address foundational questions in phonology that cut across different schools of thought within the discipline. The theme of modularity runs through them all, however, and these essays demonstrate the benefits of the modular approach to phonology, either investigating interactions among distinct modules or developing specific aspects of representation within a particular module. Although the contributors take divergent views on a range of issues, they agree on the importance of representations and questions of modularity in phonology. Their essays address the status of phonological features, syllable theory, metrical structure, the architecture of the phonological component, and interaction among components of phonology. In the early 1990s the rise of Optimality Theory—which suggested that pure computation would solve the problems of representations and modularity—eclipsed the centrality of these issues for phonology. This book is unique in offering a coherent view of phonology that is not Optimality Theory based. The essays in this book, all by distinguished phonologists, demonstrate that computation and representation are inherently linked; they do not deny Optimality Theory but attempt to move the field of phonology beyond it. Contributors: Juliette Blevins, Charles E. Cairns, Andrea Calabrese, G. Nick Clements, B. Elan Dresher, Morris Halle, Harry van der Hulst, William J. Idsardi, Ellen Kaisse, Andrew Nevins, Thomas C. Purnell, Eric Raimy, Keren Rice, Charles Reiss, Bert Vaux, Aaron Wolfe.

Read more

This book proposes a new representational analysis of reduplication based on making explicit precedence relations in phonological representations. The main claim is that reduplication results from loops in the precedence structure of phonological representations. Modular rule based analyses of overapplication and underapplication effects including backcopying are presented to argue against the McCarthy and Prince (1995) claim that a derivational model of reduplication is conceptually and empirically inadequate. Other sections of the book discuss the implications of explicit precedence information for the concatenation of morphemes, the analysis of infixation, and templates in reduplication. Analyses of relevant phenomena from Indonesian, Tohono Oodham, Chaha, Chumash and Nancowry among other languages are provided.

Read more