Frederic Neyrat
Position title: Professor; Mellon-Morgridge Professor of Planetary Humanities
Email: neyrat@wisc.edu
Address:
7143 Helen C. White Hall
Interests

Theory, Environmental Humanities, Political Theory

Website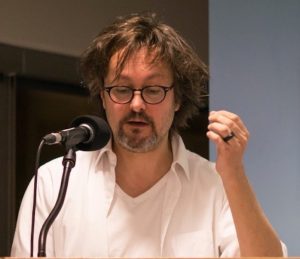 Degrees and Institutions
B.S. Political Science, Institut d'Études Politiques, Lyon (France)
M.S. Political Science, Université Paris I, Panthéon – Sorbonne
Ph.D. Philosophy, University of Strasbourg (France)
Select Publications
Books:
Cosmos Expérimental (Abrüpt, 2022)
Literature and Materialisms (Routledge, 2020)
The Unconstructable Earth: An Ecology of separation (Fordham University Press, 2018). French Voices Grand Prize
Echapper à l'horreur. Court traité des interruptions merveilleuses (Nouvelles Editions Lignes, with a preface by Jean-Luc Nancy, 2017)
Atopias. Manifesto for a Radical Existentialism (Fordham University Press, with a preface by Steven Shaviro, 2017)
Homo Labyrinthus. Humanisme, antihumanisme, posthumanisme (Editions Dehors, 2015)
Le Communisme existentiel de Jean-Luc Nancy (Nouvelles Editions Lignes, 2013)
Instructions pour une prise d'âmes. Artaud et l'envoûtement occidental (La Phocide, 2009)
L'indemne. Heidegger et la destruction du monde (Sens et Tonka, "Collège International de Philosophie" series, 2008)
Articles and Book Chapters:
"Ghosts of Extinction: An Essay in Spectral Ecopolitics" Oxford Literary Review, 2019
"L'univers n'est pas un bruit blanc : futurisme Noir et fins du monde. À propos de M Archive: After the End of the World, d'Alexis Pauline Gumbs" Terrestres, 2019
"Dialectique de la Séparation" Multitudes, 2018
"Eccentric Earth" Diacritics, 2018
"Occupying the Future: Time and Politics in the Era of Clairvoyance Societies" in The Present of the Future, Zürich-Berlin, 2018
"Elements for an Ecology of Separation. Beyond Ecological Constructivism" in General Ecology. The New Ecological Paradigm, Bloomsbury, 2017
"Planetary Antigones: The Environmental Situation and the Wandering Condition" Qui Parle? 2016
"NO/US: The Nietzschean Democracy of Jean-Luc Nancy" Diacritics, 2016
"The Biopolitics of Catastrophe, or
How to Avert the Past and Regulate the Future" South Atlantic Quarterly, 2016
"Economy of Turbulence: How to Escape from the Global State of Emergency?" Philosophy Today, 2015
Book Project
What I propose in my next book project, The Planetary Condition, is to think together the human and the inhuman, the environmental and the astronomical, the urgent time of the endangered environment and the very long-term of the universe. My book will illustrate the utility of creating bridges between the sciences and the humanities. I will consider geology and astronomy to give a scientific ground to what I call the planetary and I will explore the imaginary of the planetary in sci-fi films and literature, from Ovid's Metamorphoses to Christopher Nolan's Interstellar. Doing so, I will extend the Environmental humanities to topics and objects that are usually not taken into consideration in this field. Amongst these objects: the birth of geology, the Galilean revolution, extraterrestrial environments, the Space Age and New Space, and Afro-Futurism.
Journals
I edit an electronic platform, Alienocene, that gathers texts, sounds, and images seeking to reshape the relation between the human and the inhuman, the near and the distant, what is familiar to us and what persists in remaining – despite everything – alien.
I'm a member of the editorial board of the journals Lignes and Multitudes.
Recent Books
Winner, Grand Prize, French Voices Award for Excellence in Publication and Translation

The Space Age is over? Not at all! A new planet has appeared: Earth. In the age of the Anthropocene, the Earth is a post-natural planet that can be remade at will, controlled and managed thanks to the prowess of geoengineering. This new imaginary is also accompanied by a new kind of power—geopower—that takes the entire Earth, in its social, biological and geophysical dimensions, as an object of knowledge, intervention, and governmentality. In short, our rising awareness that we have destroyed our planet has simultaneously provided us not with remorse or resolve but with a new fantasy: that the Anthropocene delivers an opportunity to remake our terrestrial environment thanks to the power of technology.

Read more

Literature and Materialisms sheds light on the current new wave of materialisms and assesses the impact on literary theory and criticism. It maps the similarities and differences between speculative realism, object-oriented philosophy, and vitalism. A genealogy of materialisms, vitalisms, empiricisms, and realist approaches – from Heraclitus to Badiou, including Lucretius, Spinoza, Marx, Althusser, Barad, Spivak, Deleuze, Bennett, Harman, and other contemporary thinkers – puts these new trends into perspective.

This book investigates the relations between literature – from Marquis de Sade to objectivist poetry – and materialism and analyses the material aspects of literature, its structure and texture, its commodification and its capacity to resist market imperatives. It explores how literary style might be understood as a mediation between the 'immaterial' and the concrete features of a text.

This volume provides students and academics with an accessible overview of the study of literature and materialism.

Read more