Anna Muenchrath
Position title: Mendota Fellow
Email: muenchrath@wisc.edu
Interests

World Literature, Global Modernisms, 20th Century Anglophone Literature, 20th Century German Literature, Translation Studies, Print Culture, Media Studies, and Book History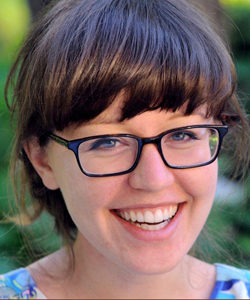 Degrees and Institution
BA in English, Economics, and German, Vanderbilt University
MA in English, UW-Madison
PhD in English, UW-Madison
Publications
"Anthologizing Race: Folk, Volk and Untranslation in the Weimar Republic."

Journal of World Literature

, vol. 3, no. 4, 2018. 552-575

"Decapitation, Pregnancy, and the Tongue: The Body as Political Metaphor in Measure for Measure."

Early Modern Literary Studies

, vol. 20, no. 1, 2018. 1-19.

Translations of "Blick in den Strom" by Nikolaus Lenau and "Fahrt über die Kölner Rheinbrücke bei Nacht" by Ernst Stadler, in

Poems on Rivers

, ed. Henry Hughes. Everyman's Library, Forthcoming 2020. 
Current Projects
Actors, Institutions, and Networks: Untangling Global Literary Circulation in the Twentieth Century (Book Manuscript)
"'An Author-Evacuated Text': Proliferating Print Networks in Melville's Marginalia"
Website