Ralph Grunewald
Position title: Associate Professor / Department of English / Center for Law, Society, and Justice
Email: grunewald@wisc.edu
Interests

Law and literature/humanities, narratology, wrongful convictions, criminal theory, criminal justice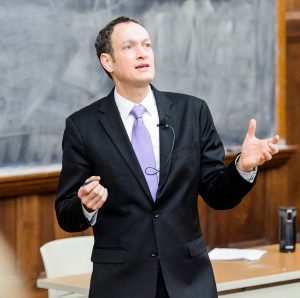 Degrees and Institutions
Ref. Jur., Johannes Gutenberg-Universität Mainz (Germany)
Assessor Jur., State of Bavaria (Germany)
Ph.D. Criminology/Criminal Law, Johannes Gutenberg-Universität Mainz (Germany)
LL.M. (Master of Laws), University of Wisconsin-Madison Law School
Select Publications
Books:
Die De-Individualisierung des Erziehungsgedankens im Jugendstrafrecht, Berlin: Duncker & Humblot, 2003. ("The De-Individualization of the Principle of Education in the Juvenile Court Act")
Articles:
"Forces Beyond Linear Reasoning: The Evidentiary Power of Narrative in Wrongful Conviction Cases", in "Narratives in the Criminal Process", Vittorio Klostermann (Forthcoming)
"Poetics of Injustice: The Case of Two Mockingbirds", 26 Connotations Journal (2016/17)
"Reinventing the Trial: Evaluating Proposals to Modify the American Criminal Trial in the Wake of the Innocence Revolution" (Co-Authored with Marvin Zalman), 3 Texas A&M Law Review 189 (2015)
"Comparing Injustices: Congruence, Conflict, and the System", 77 Albany Law Review 1139 (2014)
"The Narrative of Innocence, or: Lost Stories", 25 Law and Literature 366 (2013)
Current Projects
My current book project with the working title Narratives of Guilt and Innocence in the Wake of the Innocence Movement approaches wrongful convictions as narrative phenomena and argues that especially in the adversarial criminal justice setup narrative and storytelling are powerful forces that influence the outcomes of criminal cases. While most wrongful conviction scholarship is rooted in the legal, social, or psychological sciences, this book adds an interdisciplinary and comparative perspective. I address how the narrative desire leads to wrong suspects and wrong verdicts despite existing legal safeguards—in the United States and other countries.
Courses Taught
"Criminal Justice in America"; "Law and Literature"; "Guilt"; "American Juvenile Justice with a Comparative Perspective"; "Comparative Criminal Justice".