Susan Stanford Friedman
Position title: Virginia Woolf Professor Emerita of English and Women's Studies
Email: ssfriedm@wisc.edu
Interests

Modernism/modernity, Feminist theory and women's writing, Cultural theory and world literatures in English, Diaspora and migration, religious studies, narrative theory, postcolonial studies, psychoanalysis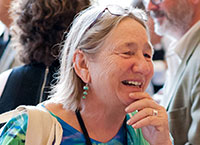 Degrees and Institutions
PhD University of Wisconsin, 1973
BA, Greek and English, Swarthmore College, 1965
Selected Publications
Contemporary Revolutions: Turning Back to the Future in 21st-Century Literature and Art. Bloomsbury, 2018.
Planetary Modernisms: Provocations on Modernity Across Time (Columbia UP, 2015)
Mappings: Feminism and the Cultural Geographies of Encounter (Princeton UP, 1998; ebook, 2001), recipient of the Perkins Prize for Best Book in Narrative Studies, translated into Chinese (2014)
Penelope's Web: Gender, Modernity, H.D.'s Fiction (Cambridge UP, 1990)
Psyche Reborn: The Emergence of H.D. (Indiana UP, 1981, 1987), recipient of a Choice Outstanding Academic Books Award
co-author of A Woman's Guide to Therapy (Prentice Hall, 1979)
Co-editor of Comparison: Theories, Approaches, Uses (Johns Hopkins UP, 2013)
editor of Analyzing Freud: Letters of H.D., Bryher, and Their Circle (New Directions, 2001)
editor of Joyce: The Return of the Repressed (Cornell UP, 1992)
co-editor of Signets: Reading H.D. (University of Wisconsin Press, 1991)
She has published over eighty articles and book chapters on modernism, migration/diaspora, world literatures in English, narrative theory, feminist theory and pedagogy, narrative theory, women's poetry, modernism, autobiography, psychoanalysis, globalization and geopolitics, and identity; on writers such as H.D., Freud, Virginia Woolf, Julia Kristeva, Elizabeth Barrett Browning, Adrienne Rich, James Joyce, E. M. Forster, Louise Erdrich, Gish Jen, Anna Deavere Smith, Gloria Anzaldúa, Rabindranath Tagore, Arundhati Roy, Fatima Mernissi, Azar Nafisi, Tayeb Salih, Randa Jarran and Leila Aboulela; and films and films such as The Crying Game, Mississippi Masala, Daughters of the Dust, and Borderline. She has guest-edited special issues of Contemporary Literature and Journal of Narrative Technique and co-founded and edited Contemporary Women's Writing (2007-12), a prize-winning Oxford UP journal
Journals in which her work has appeared include PMLA, Modernism/Modernity, Narrative, New Literary History, Journal of World Literature, Modern Fiction Studies, Paideuma,  Signs, Feminist Studies, Tulsa Studies in Women's Literature, Genders,  China Scholarship, New Comparison, Communal/Plural, Literature and Psychology, The Annual of Psychoanalysis, Religion and Literature, Agenda, Sagetrieb, Montemora, Poesis, LIT, Journal of Narrative Technique, College English, Women's Studies, Iowa Review, South Carolina Review, Lingua Franca, MS. Magazine, Modern Philology, Women's Review of Books, Mettelweg 36, Revista Critica de Ciencias Sociais, and med.Azioni.
She has lectured in Argentina, Britain, Canada, China, Dubai, Hong Kong, Italy, Korea, India, Lebanon, the Netherlands, Portugal, and Taiwan. Her work is translated into Chinese, German, Hungerian, Icelandic, Italian, Japanese, Portuguese, Serbian, and Spanish.
Honors include the Wayne C. Booth Award for Lifetime Achievement in Narrative Studies (2009), the Perkins Prize for Best Book in Narrative Studies (1999), a Choice Academic Book Award (1981), the Florence Howe Award for Best Essay in Feminist Criticism (1978), WARF, and Bascom, and Hilldale Professorships, and fellowships from ACLS, NEH, and the American Psychoanlytic Association. She has also been honored with 4 teaching awards at UW-Madison.
Research Interests
20th and 21st Centuries American, British, and Anglophone world literatures; modernism/modernity; women's writing (fiction, poetry, essay); feminist theory; comparative postcolonial, diaspora, migration, transnational, and border theory and literature; narrative theory; psychoanalysis; multiculturalism and race studies; contemporary cultural theory, especially anthropology and geography; film.
Current Projects
She is currently working on Sisters of Scheherazade: Religion, Diaspora, Muslim Women's Writing.
Teaching
She has taught some twenty-six courses for English and Women's Studies and directed 42 dissertations, served on over 70 dissertation and MFA committees, and directed four honors theses.