Martin Foys
Position title: Director of Graduate Studies; Nancy C. Hoefs Professor of English
Email: foys@wisc.edu
Address:
7183 Helen C. White Hall
Interests

Old English language and literature, early medieval materialism and media, digital medievalism, digital humanities

Website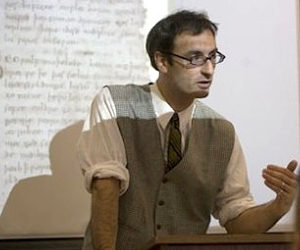 Education
Ph.D., English, Loyola University Chicago
B.A., English, Drew University
Personal Statement
The core of my research concerns pre- and post-Conquest England, with special attention to the intersection of literature and other visual, material and media modes of cultural expression – e.g. maps, tapestries and sculpture, and, most recently, more ephemeral and abstracted aspects of early medieval expressive production – auditory culture, technological alteration of bodies, transliteracies and ecologies of media forms, and the process of temporal decay or obsolescence. Recent work includes essays on widows, witchcraft and medieval real estate deals (2018), medieval media, human bodies and digital technology (2017)  media archaeology and manuscript studies (2015), a sensual philology for Anglo-Saxon England (2014),  "Media" for the Wiley-Blackwell Handbook of Anglo-Saxon Studies (2012), as well as co-editing a volume of articles on "Becoming Media" for the journal postmedieval (2012), for which submissions were also vetted through an experimental online crowd review. I am currently at work on a book on the nature of early medieval media, as well as editing a set of early medieval maps for the Virtual Mappa project, based at the British Library.
Major publications include the Bayeux Tapestry Digital Edition (2003 & 2013),  Virtually Anglo-Saxon: Old Media, New Media, and Early Medieval Studies in the Late Age of Print (2007), and Bayeux Tapestry: New Interpretations (2009). I also co-direct the DM Project, a digital resource for the open annotation of digital images and texts, which has been funded by a multi-year grant from the National Endowment for the Humanities, with earlier support from Andrew W. Mellon Foundation, and by a generous UW2020 grant from the University of Wisconsin-Madison.
Selected Publications
"How a Widow Becomes a Witch: Land, Loss and Law in Charter S. 1377" in a special issue of English Studies, topic: Women's Bodies in Early Medieval England, eds. Robin Norris, Rebecca Stephenson & Renée Trilling (forthcoming, 2020, 8,000 words).
"The Remanence of Medieval Media," for Digital Medieval Literature and Culture (Routledge Handbook series), ed. Jen Boyle and Helen J. Burgess (Routledge: 2018), 9-30.
"The Undoing of Exeter Book Riddle 47: 'Bookmoth'," in Transitional States: Cultural Change, Tradition and Memory in Medieval England. Ed. Graham Caie and Michael D.C. Drout. Tempe: Arizona Center for Medieval and Renaissance Studies (ACMRS: 2018), 101-130.
Beowulf: lines 2248-2267 ("The Lay of the Last Survivor"), for Beowulf by All. Eds. Elaine Treharne and Jean Abbot (Stanford Universities Text Technologies: 2018): https://texttechnologies.stanford.edu/publications/beowulf-all.
"Redacting Harold Godwinson in William of Malmesbury's Gesta Regum and the Vita Haroldi," in Textiles, Text, Intertext: Essays in Honour of Gale R. Owen-Crocker, eds. Jill Fredrick and Maren Clegg-Hyer (Boydell and Brewer Press: 2016), 239-53.
"Medieval Manuscripts: Media Archaeology and the Digital Incunable," for The Medieval Manuscript Book: Cultural Approaches, eds. M. Van Dussen and M. Johnston (Cambridge University Press: 2015), 119-139.
"A Sensual Philology for Anglo-Saxon England." Postmedieval, 5.4 (volume on Philologies and the Futures of Humanism) (2014): 456-472.
"Hwæt sprycst þu?: Performing Ælfric's Colloquy." Studies in Medieval and Renaissance Teaching 22.2 (Fall 2015) (special issue: Practical Strategies for Teaching and Learning Old English), ed. H. Momma and H. Estes, 66-71.
"The Piers Plowman Electronic Archive and the Process of Durable Mutation" (review essay). Yearbook of Langland Studies 26 (2012 [2013]): 277-286.
"Media: Some Definitions Disguised as Maxims" & "Media in 'The Husband's Message'." A Handbook to Anglo-Saxon Studies (Critical Theory Handbooks), ed. Jacqueline A. Stodnick and Renée R. Trilling (Oxford: Wiley-Blackwell), 2012, 133-148.
"Developing Digital Mappaemundi: An Agile Mode for Annotating Medieval Maps" (with Shannon Bradshaw). Digital Medievalist 7 (2011).
"Vanishing Transliteracies in Beowulf and Samuel Pepys' Diary" (with Whitney Trettien). Essays and Studies –'Textual Cultures: Cultural Texts,' ed. Elaine Treharne and Orietta Da Rold (Woodbridge: Boydell and Brewer), 2010, 75-120.
"New Media and the Nunburnholme Cross." Cross and Cruciform in the Anglo-Saxon World, ed. Karen Jolly, Sarah Keefer, and Catherine Karkov, (Morgantown: West Virginia University Press), 2010, 340-368.
"Pulling the Arrow Out: The Legend of Harold's Death and the Bayeux Tapestry." The Bayeux Tapestry: New Interpretations (2009, see below), 158-175.
"The Reality of Media in Anglo-Saxon Studies." The Heroic Age; A Journal of Early Medieval Northwestern Europe 11 (2008).
"An Unfinished Mappamundi from Late Eleventh-Century Worcester: CCCC 265 and the Evidence for a Family of Late Anglo-Saxon Maps." Anglo-Saxon England 35 (2006): 271-284.
"The Virtual Reality of the Anglo-Saxon Mappamundi." Literature Compass 1 (2003): ME 016, 1-14.
"All's Well that Ends: Closure, Hypertext, and the Missing End of the Bayeux Tapestry." Exemplaria 15.2 (2003): 39-72.
---
Digital Mappa Resources:
Digital Mappa (DM for short) is a Digital Humanities platform for the collection and curation of digital images and texts. DM's suite of tools enables users assemble digital materials (both image and text), and then highlight areas of interest specific areas of interest on these documents. These highlights are then active, and users can create commentary for them, or link between them and other highlight on the same or other documents in the same DM project.  DM has been funded by a multi-year grant from the National Endowment for the Humanities, with earlier support from Andrew W. Mellon Foundation, and by a generous UW2020 grant from the University of Wisconsin-Madison. You can learn all about how DM works at: digitalmappa.org.
---
Please note: for DM 1.0 and 2.0 projects, Chrome or Firefox browsers are recommended.
---
Some projects remain in the earlier DM 1.0 prototype, while others have already been ported to the (vastly) improved 2.0 platform:
---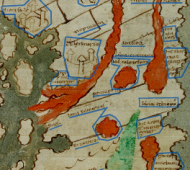 Virtual Mappa is a project in partnership with the British Library that so far has virtually collected and fully annotated a cohort of eleven early English maps of the world, including the famous Cotton Map and the massive Hereford Map (1100 inscriptions!). Significantly, by editing within the DM environment, all of this content is now searchable across all maps included. With the completion of this first phase, more maps will be gradually added, as new contributors publish maps within the resource.  For an earlier summary of the scope of the project, see this British Library announcement. Virtual Mappa is hosted and published by the Schoenberg Institute for Manuscript Studies.
---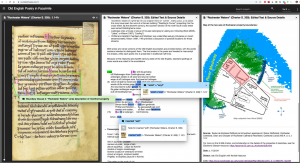 Old English Poetry in Facsimile (DM 2.0 version),ed. Martin Foys (UW-Madison Center for the History of Print and Digital Culture, 2018): https://uw.digitalmappa.org/58.
The premise of the Old English Poetry in Facsimile project is simple: over the past ten years, more and more digital facsimiles of Old English literature are now accessible to users. The project is using DM to gradually add available digital images of the earliest facsimile (manuscript or in some cases printed edition) for each surviving work of Old English poetry, linked to the freely available Anglo-Saxon Poetic Records edited text, and basic source information.
---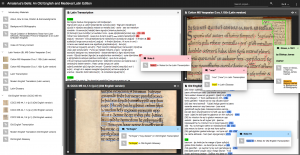 Amalarius's Bells: An Old English and Medieval Latin Edition (DM 2.0 version), ed. Martin Foys (Schoenberg Institute for Manuscript Studies, 2019): https://sims2.digitalmappa.org/2.
Amalarius's Bells is designed as a resource for students of all levels of Old English, medieval Latin, paleography, and medieval translation, and also as a detailed resource for scholars. Provides full editions of a short Latin text and its subsequent Old English translation, digital facsimiles of both manuscript versions, Latin and Old English glossaries, editorial commentary, and detailed discussion of the manuscripts and their contexts.
---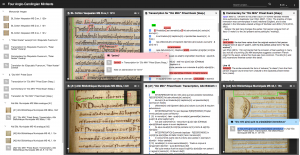 Four Anglo-Carolingian Minitexts from Cotton Vespasian MS D. xv (DM 1.0 version), ed. Martin Foys (Schoenberg Institute for Manuscript Studies, 2019):  https://sims2.digitalmappa.org/1.
The Four Anglo-Carolingian Minitexts work publishes a set of editions for four recently identified short Carolingian Latin texts in a late tenth-century English manuscript; three of these texts were not previously known to be in England before the Norman Conquest. The editions themselves link together digital manuscript facsimiles, transcriptions, editorial commentary and modern English translations.