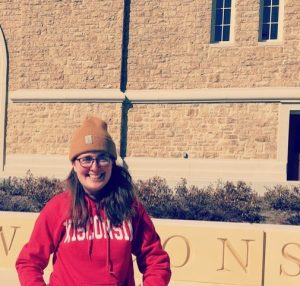 Degrees and Institutions
Ph.D. and M.A. English, Cornell University
B.A. English, University of Michigan
Interests
Environmental Humanities, Queer Theory, Queer Ecologies, American Literature
Research
Sarah Ensor's work engages the intersections between queer and environmental thought in American literature from the nineteenth century through the present. She is currently completing her first book, tentatively titled Terminal Regions: Queer Environmental Ethics in the Absence of Futurity. There, she asks what contemporary environmentalism's seemingly necessary emphasis on the future has rendered unthinkable, and turns to queer theory and literature in order to trace how temporariness and (apparent) futurelessness can engender, rather than preclude, forms of community, persistence, and care. She is also the co-editor (with Susan Scott Parrish) of the forthcoming Cambridge Companion to American Literature and the Environment. Before arriving in Madison, she was Assistant Professor of English at Portland State University and Assistant Professor of English and Environmental Humanities at the University of Michigan.
Select Publications
"(In)conceivable Futures: Henry David Thoreau and Reproduction's Queer Ecology." Forthcoming in Cambridge Companion to American Literature and the Environment (Spring 2022).
"The Ecopoetics of Contact: Touching, Cruising, Gleaning." ISLE: Interdisciplinary Studies in Literature and the Environment (Special Cluster on Queering Ecopoetics, May 2018).
"Relative Strangers: Contracting Kinship in the Queer Ecology Classroom." American Literature 89.2 (Pedagogy Special Issue, June 2017).
"Queer Fallout: Samuel Delany and the Ecology of Cruising." Environmental Humanities 9.1 (May 2017).
"Terminal Regions: Queer Ecocriticism at the End." Against Life, eds. Alastair Hunt and Stephanie Youngblood (Evanston: Northwestern Univ. Press, 2016).
"Spinster Ecology: Rachel Carson,

Sarah

 Orne Jewett, and Nonreproductive Futurity." American Literature 84.2 (Ecocriticism Special Issue, June 2012).