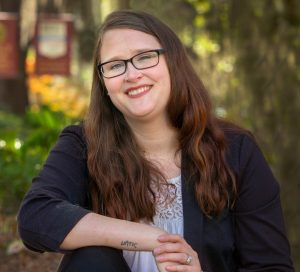 My research agenda focuses on fostering accessible environments for disabled students in collaborative spaces. My most recent project features disabled students' voices as they describe their experiences with collaborative learning and writing in the classroom and reimagine a structure that is more accessible to their abilities. My goal through this research is to articulate how writing classrooms can become more inclusive and to continue advocating for neurodiversity within academic settings. My future research endeavors will examine how to make writing centers more accessible for disabled tutors and writers.
Publications:
Anglesey, Leslie and Ellen Cecil-Lemkin. "The Importance of Keeping Conference Quiet Rooms Quiet." College Composition and Communication, vol. 72, no. 1, 2020, pp. 99-102.
Cecil-Lemkin, Ellen. "Expanding Access in Collaborative Writing Pedagogy." Teaching English in the Two-Year College, vol. 49, no. 3, 2022, pp. 202-218.
Enoch, Jennifer, Megan Keaton, Ellen Cecil-Lemkin, and Travis Maynard. "Archival Internships as Techne: Teaching the Archive through the Museum of Everyday Writing's Undergraduate Internship." Teaching through the Archives: Text, Collaboration, and Activism, edited by Tarez Samra Graban and Wendy Hayden, Southern Illinois U P, 2022, pp. 107-20.