Joshua Calhoun
Position title: Associate Professor
Email: joshua.calhoun@wisc.edu
Address:
6161 Helen C. White Hall
Early Modern Lyric Poetry, Early Modern Drama, Poetics, Shakespeare, Donne, Gascoigne, Book History/History of Media, Ecobibliography, Papermaking, Historical Formalism, Miscellanies and Anthologies, Paleography, the Atlantic World, Public Humanities, Ecopoetics, Environmental Humanities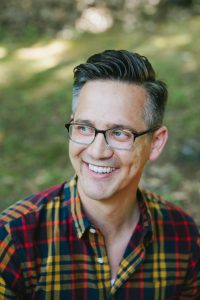 BOOK
The Nature of the Page: Poetry, Papermaking, & Ecology in Renaissance England (University of Pennsylvania Press, 2020).
SELECTED PUBLICATIONS
RESEARCH
Focusing on the history of handmade paper, my first book, The Nature of the Page, explores the ecopoetic interplay between literary ideas and the physical forms they are made to take as sixteenth- and seventeenth-century texts. Made from recycled clothes, slaughtered animals, and felled trees, poetic texts in Renaissance England were filled with visible traces of ecological matter. I argue that the flora, fauna, and mineralia from which a Renaissance text—or a clay tablet, or a birch bark map, or an iPhone—is made are legible, significant elements of its poetic form.
Scholarship on the history of media has tended to imagine humans as the points of textual origination, as if the materials used to make paper, to make ink, to make printing type, and so on, simply existed in abundance, waiting to be harvested. In reality, ecological availability and scarcity make certain kinds of human records possible; at the moment those possibilities are realized and integrated into textual forms, textual corruption and disintegration begins. Texts, in other words, are and arise from within unique ecosystems. The Nature of the Page reveals a more ecologically deterministic, but also a more poetic past and future for those endlessly intriguing sites of humanistic and environmental negotiation we call "texts."
The Deaths of Books: Facing the Mortality of Texts is the tentative title for the book I am currently researching. In this work, I put the materiality of texts into conversation with the mortality of texts by thinking about how books die. The work extends the "ecology of texts" approach I advocate in The Nature of the Page, but pushes my new research into deeper conversations with environmental science and conservation practices by asking questions such as: What is the environmental cost of historical preservation? How much preservation is enough? Is digitization really more environmentally friendly than stabilizing aged texts in climate controlled vaults? Why is it common to allow destructive analysis on samples from historical buildings and historical bones, but not from historical books?
I also co-direct Holding History, a mentoring-driven public humanities program focused on the history of media and book arts. Since its inception, Holding History has pushed back against a unidirectional "crossover" trend in public humanities programming in which academic scholars complete extensive research, publish in academic outlets, then present a "research-lite" version of the work to public audiences. While such crossover work has its value, it treats public humanities work as something that happens after the "real" research is completed. Holding History has been at the forefront of a trend toward a less hierarchical, more inclusive concept of public humanities programming, one in which community engagement is part of the research rather than an afterthought.
The value of this approach has been evident in my research, which exists at the confluence of three streams: the academic, the conservatory, and the artisanal. Bringing "outside" voices into academic conversation is central to my research and remains fundamental to the Holding History mission.
TEACHING
In my teaching at UW-Madison, I cultivate classroom environments that engage with individual interests, offer varied approaches to the study of texts and media, reward intellectual curiosity and collaboration, and help students to take ownership of the learning experience. Hands-on sessions with 400-year-old books in Special Collections, in-class reading and performance, visits by actors, directors, and artists, film screenings, and papermaking and printing sessions punctuate daily discussion, lecture, and group work in my various courses. In addition to Renaissance literature, I regularly teach an environmentally themed writing course for honors students majoring in the sciences.
AWARDS & HONORS
Vilas Associates Award (2021-23)
William H. Kiekhofer Distinguished Teaching Award (University-wide teaching award, 2022)
Humanities Without Walls/University of Wisconsin-Madison Center for the Humanities Seed Grant for Holding History (2022)
Baldwin Wisconsin Idea Seed Grant, University of Wisconsin-Madison for "Holding History: Reconnecting Communities and Archives in the Time of Covid-19" (2021)
UW Hilldale Undergraduate/Faculty Research Fellow (2014, 2020)
Honored Instructor, University Housing Academic Initiatives (2015, 2017, 2018)
Fellow, Institute for Research in the Humanities (IRH), UW-Madison (2016)
Scholar in Residence, Institute for the Public Life of Arts & Ideas, McGill University (2015)
Short-term Fellow, Folger Shakespeare Library (2014)
Mellon/ACLS Dissertation Completion Fellow (2009-10)
INTERVIEWS & MEDIA COVERAGE
Association for the Study of Literature and the Environment: "Textual Habits and Textual Habitats," January 2020.
UW-Madison L&S: "Roses are red; write a love poem this Valentine's Day," by Käri Knutson, February 12th 2018.

Wisconsin Public Radio Interview: "

Dangerous Printing

." Interview with Norman Gilliland. Air date: Apr 2, 2017.

Wisconsin Alumni Association: "Brush Up on Your Shakespeare: Q&A with UW English Professor Joshua Calhoun," by Chelsea Schlecht, November 21, 2016.
Wisconsin Public Radio: "Hamilton, The Musical" (on prosody and historiography) with Sarah Marty and Alexander Shashko. Air date: July 24, 2016. Length: 1 hour.
PBS: "Repackaging Shakespeare's Sonnets." Air date: July 15th, 2016.
Wisconsin Public Radio: "Faith and Seduction in the Writings of John Donne." Interview with Norman Gilliland. Air date: Sept 27, 2015. Length: 1 hour.
Wisconsin Alumni Association: "Possibility in Art" by Wendy Krause Hathaway, June 1, 2013.
The Awl: "The 126th MLA Convention: Invite Us All In!" by Maria Bustillos, January 25, 2011.
Recent Books
Read more

In The Nature of the Page, Joshua Calhoun tells the story of handmade paper in Renaissance England and beyond. For most of the history of printing, paper was made primarily from recycled rags, so this is a story about using old clothes to tell new stories, about plants used to make clothes, and about plants that frustrated papermakers' best attempts to replace scarce natural resources with abundant ones. Because plants, like humans, are susceptible to the ravages of time, it is also a story of corruption and the hope that we can preserve the things we love from decay.

Combining environmental and bibliographical research with deft literary analysis, Calhoun reveals how much we have left to discover in familiar texts. He describes the transformation of plant material into a sheet of paper, details how ecological availability or scarcity influenced literary output in the sixteenth and seventeenth centuries, and examines the impact of the various colors and qualities of paper on early modern reading practices. Through a discussion of sizing—the mixture used to coat the surface of paper so that ink would not blot into its fibers—he reveals a surprising textual interaction between animals and readers. He shows how we might read an indistinct stain on the page of an early modern book to better understand the mixed media surfaces on which readers, writers, and printers recorded and revised history. Lastly, Calhoun considers how early modern writers imagined paper decay and how modern scholars grapple with biodeterioration today.

Exploring the poetic interplay between human ideas and the plant, animal, and mineral forms through which they are mediated, The Nature of the Page prompts readers to reconsider the role of the natural world in everything from old books to new smartphones.

Read more