Leslie Bow
Position title: Vilas Distinguished Achievement Professor, English and Asian American Studies Dorothy Draheim Professor of English
Email: lbow@wisc.edu
Address:
(she, her, hers)
7179 Helen C. White Hall
Interests

Asian American Studies, Comparative Ethnic Studies, Asian American literature, literature by women of color, feminist theory, critical race studies, Cultural Studies, popular culture, race and sexuality.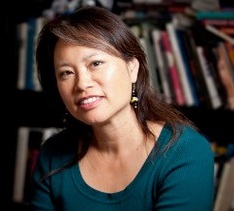 Degrees and Institutions
PhD, University of California, Santa Cruz, 1993
MA, State University of New York, Buffalo, 1988
BA, University of California, Berkeley, 1984
Publications
Books
Selected Articles and Book Chapters
"Racist Cute: Caricature, Kawaii-Style, and the Asian Thing," American Quarterly 71.1 (March 2019). https://muse.jhu.edu/article/720785, PDF 1.
"Racial Abstraction and Species Difference: Anthropomorphic Animals in "Multicultural" Children's Literature," American Literature 91. 2 (2019): 323–356. https://doi.org/10.1215/00029831-7529167, PDF 2.
"Introduction: Jade Snow Wong's Giftshop and Travel Service," Introduction to new edition of Fifth Chinese Daughter by Jade Snow Wong, Classics of Asian American Literature. Seattle: University of Washington Press, 2019. ix-xxx.
"Asian American Women's Literature and the Promise of Committed Art." In Cambridge History of American Women's Writing, ed. Dale Bauer. Cambridge: Cambridge University Press.
"Asian Americans, Racial Latency, Southern Traces." In Oxford Handbook to the Literature of the U.S. South, ed. Barbara Ladd and Fred Hobson, Oxford University Press.
"Transracial/Transgender: Analogies of Difference in Mai's America."  Signs: A Journal of Women in Culture and Society 35.1 (Autumn 2009).
"Playing in the Dark and the Ghosts in the Machine." American Literary History 20.3 (Fall 2008).
"Racial Interstitiality and the Anxieties of the 'Partly Colored': Representations of Asians under Jim Crow, " Journal of Asian American Studies 10.1 (February 2007).
"'For Every Gesture of Loyalty, There Doesn't Have to Be a Betrayal': Asian American Criticism and the Politics of Locality," In Who Can Speak?: Authority and Critical Identity, ed. Judith Roof and Robyn Wiegman, University of Illinois Press, 1995, reprinted in Feminist Communication Theory: Selections in Context, ed. Lana F. Rakow and Laura A. Wackwitz, Sage, 2004.
"The Gendered Subject of Human Rights: Asian American Literature as Postcolonial Intervention." Cultural Critique (Winter 1999).
Selected Essays
"Adopting a Genre." The Progressive 73.10 (Oct. 2009): 43-44.
"Camera-Ready." Michigan Quarterly Review 47: 2 (Spring 2008), reprinted in Utne Reader: The Best of the Alternative Press. 149 (Sept./Oct. 2008).
"Meditations of the 'Partly Colored,'" The Southern Review (Winter 2007).
Current Interests
My new project engages the desires and fears surrounding the American projection of an Asianized future. I am suggesting that "declinist" narratives produced in mainstream media, political theory, and U.S. diplomacy surface in veiled accounts of global popular culture that are, at first glance, simply celebrations of the cultural fusion between East and West. How does anxiety surrounding the erosion of U.S. hegemony manifest itself not simply as xenophobia or anti-Asian bias but, perhaps counterintuitively, through Asian fetishization? I want to situate Asian/American literary and visual culture as a conduit for exploring anxieties surrounding projections of an impending shift in global power, particularly as "China threat" takes the form of prophecy and futurist speculation.