Diego Alegria
Position title: TA Coordinator of the Online Writing Center
Email: alegra@wisc.edu
Interests

poetry and poetics; British Romanticism and 20th-century Spanish American literature; rhetorical theory and public humanities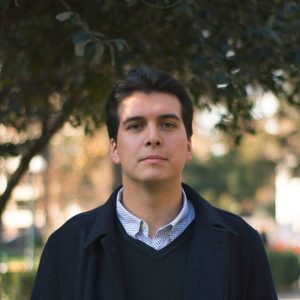 Degrees
BA in English Linguistics and Literature, University of Chile; MA in Literature, University of Chile; MA in English (Literary Studies), University of Wisconsin-Madison
Minor
Spanish
Other
HEX Scholar
Co-Chair "Middle-Modernity Group"
LACIS Graduate Student Affiliate
Co-Chair "Colloquium of Chilean Poetry during the Dictatorship and Post-Dictatorship Eras" (University of Chile)
Publications
Articles:
2021 "Modernismo or Transatlantic Romanticism: José Martí and William Wordsworth" (Lore Metzger Prize), Essays in Romanticism, Liverpool: Liverpool University Press, https://liverpooluniversitypress.co.uk/journals/article/62329/
Edited Book:
2020 "Poesía Chilena en Dictadura y Post-Dictadura," co-edited with Cristián Vidal and Nelson Zuñiga, Santiago: Gramaje Ediciones.
Book Chapter:
2021 "Poética del vuelo en Keats y Darío: una lectura transatlántica." "Aves en la Poesía Británica y Latinoamericana de los siglos XIX y XX: Cruces Simbólicos," edited by Paula Baldwin, Santiago: Ril Editores, forthcoming.
Book Review:
2019 "Keats's Paradise Lost (Digital Edition)," edited by Daniel Johnson, Greg Kucich and Beth Lau, in Revista Chilena de Literatura, 97.1, University of Chile.
Poetry Books:
2019 "y sin embargo los umbrales / and yet the thresholds," translated by Jessica Sequeira, Chile, Argentine, Spain: Mago Editores.
2015 "raíz abierta" (Juegos Florales Gabriela Mistral Prize), Santiago: Libros del Pez Espiral.
Translations:
2021 "Chacal Dorado / Golden Jackal," poems by Jessica Sequeira, Santiago: Plaza de Letras, forthcoming.