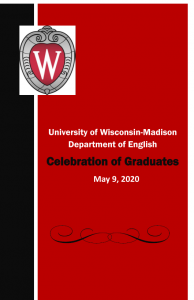 While we wish we could celebrate in person, UW-Madison English is proud to acknowledge the Class of 2020.
Congratulations, seniors—and on, Wisconsin!
---
Welcome
Professor Anja Wanner, English Department Chair
---
Graduation Address
Professor David Zimmerman, Director of Undergraduate Studies
---
Presentation of the Graduates
---
Congratulatory Comments
English Department Faculty and Advisors
For advice on navigating the job market from English Department alumni, click here.
---
"Varsity"
English Department Singers