BEN HANLEY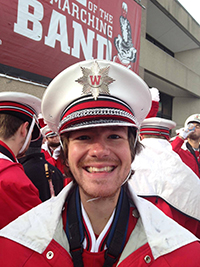 Hi! My name is Ben Hanley and I'm currently a junior double majoring in Sociology and Creative Writing, with certificates in Gender & Women's Studies and LGBT Studies. Wisconsin has been my home for all 21 years of my life. I grew up in Grafton, a small suburb north of Milwaukee, and UW-Madison ended up being the only university I applied to. (Graduating as valedictorian from my high school, I was pretty confident I'd get in.) Madison drew me in with a top-ranked academic reputation, electrifying sports traditions, and, of course, the world famous UW Marching Band. Getting into the band (and not until my second try!) has helped me develop my identity on this campus. I also was elected to a leadership position as co-president of the Ten Percent Society, the largest LGBTQ+ student org on campus. I have slowly become an extremely active student thanks to these incredible opportunities that UW has to offer, and I know senior year will bring even more exciting paths to take.
When I'm not marching with the band or organizing in the queer community, I'm studying. Just this semester, I accepted an invitation to join Phi Beta Kappa, an honors fraternity that celebrates scholastic achievement in the Liberal Arts. Needless to say, I was ecstatic that my 3.92 GPA finally got some recognition! Usually, I just get my parents taking me out to a congratulatory dinner every time they see my semester grades. If I had any advice to upcoming English majors, it would be this: as an English major, you're going to write papers. So. many. papers. And when you write those papers, I want you to take risks. So far, I have compared Adam to himself in Paradise Lost, somehow understood Judith Butler well enough to argue against her, and gotten a paper on the alternate realities of poetry accepted into Literati, Madison's undergraduate literature conference. Explaining my theses to professors in office hours sometimes gets me wide eyes and questioning looks, but time and time again, I've written successful, risky papers. How much can you learn if you're not willing to jump off the literary deep end every so often? One final takeaway from my time spent at UW: eat a rock; once a Badger, always a Badger; and On, Wisconsin!
---
RICARDO CORTEZ DE LA CRUZ II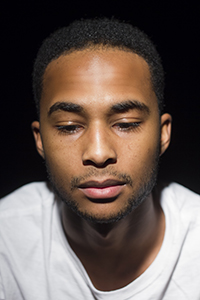 I am a First Wave Scholar and a Junior and I'm majoring in English with an Emphasis on Creative Writing. I'm from Bloomington, Illinois which is similar but in many ways different from Madison. Madison engages more with the arts, but my city has one of the best English departments at Illinois State University. I will say that the racial tensions in the two cities are the same except I believe that Madison is more micro-aggressive. If I wanted to build an artistic career, this would be the perfect place. However being a Black man in a predominantly White city that can be easily discriminatory often is tough.
No other family members attended UW, but my father is a professor at Illinois State University who teaches African-American Literature and social justice. Growing up, his library of books and knowledge was a catalyst for the type of Black writer I am today. Outside of academics, I play basketball and I love to box. I am also part of First Wave's Touring Ensemble team, where artists from our scholarship program take on various gigs and performances in order to promote activist and spread awareness.
If I had to give any sort of advice to someone pursuing an English major, it would be to make sure your schedule is free enough for reading time. Most texts will take a second read through to fully grasp the material. For fiction, some authors may embed hidden messages that are meant to obscure and harder to understand.
---
SHANNON MURPHY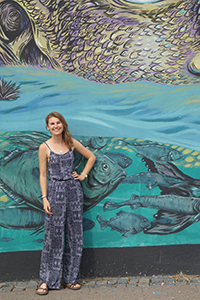 My name is Shannon Murphy and I am a senior pursuing an English literature degree with a certificate in leadership. I'm a huge bookworm, an avid runner, and a coffee enthusiast. I'm from Middleton, WI, which is about fifteen minutes outside of campus. I thought Madison was too close to home, so I spent my first year of college at UW-La Crosse, only to find that my heart was still in Madison. I transferred after my first year and have been an active student on this campus ever since.
This year, I'm one of the co-presidents of MUSE, the co-editor of The Tab Wisconsin, a collaborative editor for Illumination, a staff writer for Souvenirs, and a Badger Volunteer leader. I know, it's a lot. With so much to do on this campus, I'm constantly trying to find time to experience it all. I have met so many incredible people within the humanities, and having the chance to work with them on many different platforms is so rewarding. I've had the opportunity to sharpen my writing skills in different formats, improve my editing skills, and learn how to plan a large undergraduate literature conference. Though it is stressful, I love every minute.
After graduation, I'm planning to take a year off and apply to graduate schools. I took many classes on fairy tales here at UW-Madison, and my dream is to teach my own course on fairy tales in a university setting. I may take some time before going to graduate school to continue writing for The Tab, but I know that whatever I am doing, it will be with what I love: writing and literature.
---
DEIDRE GREEN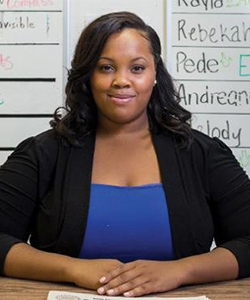 Deidre Green is a full-blown product of Madison's South side. She attended Glendale Elementary School, Sennett Middle School, and graduated from La Follette High School in 2009. In December of 2015, she graduated from University of Wisconsin-Madison with a Bachelors of Arts in English.
When she was just 12 years old, Deidre landed her first job as a staff writer for Dane County's non-profit academic teen newspaper, Simpson Street Free Press. As a high school student, Deidre penned an achievement gap column for the Free Press called The Gap According to Green, in which she wrote about topics pertaining to the minority achievement gap in Madison. At 17, she was awarded the prestigious School Bell Award from the Wisconsin Education Association Council (WEAC). Deidre is the youngest person in the award's history to be chosen for her "outstanding reporting of local educational issues." In the spring of 2012, Deidre appeared on the Cover of Brava Magazine, in which she was featured in their annual 'Women to Watch' series. This January, she was also named to the Madison Magazine "M-List" for social innovation. Deidre was also recently named one of this year's YWCA Women of Distinction.
This June marks 12 years of involvement with Simpson Street Free Press for Deidre. Now she holds the title of the Managing Editor, a position through which she gets to give back to a program that gave so much to her. In this role, Deidre particularly strives to help students in Dane County gain academic self-confidence through reading and writing.
---
ADRIANNA MCKENZIE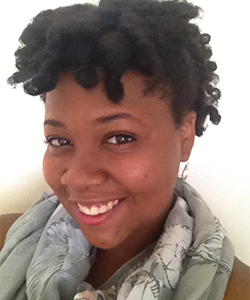 I'm a senior and I'm on the literature track.  I'm getting a minor in math.  I'm from the south side of Chicago and Madison is very different from where I grew up.  Chicago is a lot of fun and there's always a lot to do.  I enjoy the college town feel of Madison, and its dedication to enriching the lives of its residents via things like the Wisconsin Book Festival and the Farmers Market.  I am a first generation Badger and I've grown to appreciate the amount of opportunities UW creates for its students.  One of my favorite things about going to UW is being part of the WUD Film Committee.  I chose English because English courses have always been the most enjoyable to me.  I would encourage the students thinking about going into English to consider the value that communications has in almost all areas of work.
---
CAROLINE CARLSON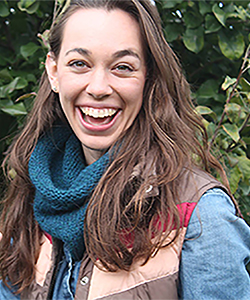 Studying English Literature isn't just about reading stories and writing analyses, it's about thinking critically, communicating effectively, shuffling around for a foothold in abstract concepts and unfamiliar experiences, and building bridges between, across, and sometimes straight through an unlimited catalogue of ideas—new and old. As a senior double-majoring in English and Cello Performance, it has been fascinating to discover, over the past four years, the places that my two rather disparate majors intersect. (And I suspect I am only beginning to understand the ways they enhance each other.)
I have found the UW-Madison English department to be a stimulating space with some outstanding faculty, staff, and students. Especially scintillating discussions are often held in small upper-level classes where a course itself becomes a community for the semester. Better yet, our English Department reaches beyond the cozy confines of academia. Like many of my friends, I have enjoyed the opportunity to use my skills outside of the classroom. As a communications intern for Senator Lena Taylor I work in the Wisconsin State Capitol providing support for Senator Taylor's Communications Director and writing all manner of political prose.
My best advice for an incoming English student: go to your professor's office hours—whether or not it's to beg for mercy. Most professors are eager to know you and happy to talk about more than just papers. Investing in connections with mentors is as rewarding as it is beneficial.
---
RACHEL WANAT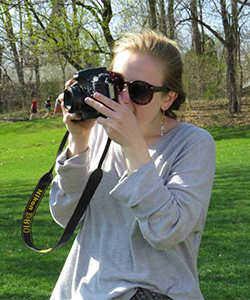 Originally from New Jersey, I proudly bear the title of "East Coast Transplant" as a student at UW-Madison.  Before I came out to Wisconsin, I had never heard of cheese curds, I thought 40 degrees was cold, and – worst of all – I had no clue who Aaron Rodgers was.  But thanks to the English Department I was able to find my niche and start to feel at home at such a big school.
Being a part of the English Department at UW-Madison is one of the best decisions I've made in college.  The close-knit, discussion-based nature of many of the upper-level courses helps to foster opportunities to learn directly from other students.  I'm so grateful for the wonderful educational opportunities that are afforded to English majors through careful and appreciative analysis that is so often overlooked outside the humanities.
Outside the classroom, I've been very fortunate to work with the Wisconsin Union Directorate as Director of the Publications Committee, which has very strong ties to the English Department.  I work to help students gain real-world experience in the world of writing, editing, and publishing.  Additionally, I've worked closely with The Daily Cardinal, UW-Madison's oldest independent newspaper.  The English Department is unique in the number of extracurricular opportunities that are made available to students.  There are so many ways that student organizations overlap with the English Department, and I've found that the things I've learned in the classroom are applicable to my real-world experiences.  This is mostly due to my professors challenging my thought processes and showing me how to expand upon my analytical techniques.  These skills are immensely important both in and out of the classroom.
If you've heard it once, you've heard it a million times: study the humanities so you can learn how to learn.  I'm so happy I did.
---
ABBY LOS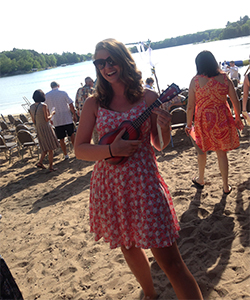 I am a sophomore majoring in both Spanish and English Literature.  Throughout all of grade school and high school, I always loved my English literature classes much more than other subjects.  Upon choosing my major, I knew English would be the right fit for me.  As for what I want to do with my English major after my college career, I wasn't always so sure.  However, even when considering editing or publishing or law school, I have always compared any future job to a career as a high school English teacher.  Now, I have finally realized that being an English teacher is exactly what I want to do and I am so excited to try to be the inspiration that all of my English teachers were to me.
I've realized that I will never again have so many opportunities available as I do right now as a college student, so I am trying to take advantage of as many as possible.  I am an editor for Souvenirs, a Schools of Hope literacy tutor, and one of the Community Service Chairs for MUSE.  I have had a great time planning and discovering different service opportunities for other English majors!  Outside the academic world, I am the communications director for Kappa Alpha Theta and a counselor at Camp Kesem.  When I am not busy with different organizations or working at the UW-Office of Admissions, I love crafting, painting, spending time with family and friends, daydreaming, and reading.
---
EMMETT MOTTL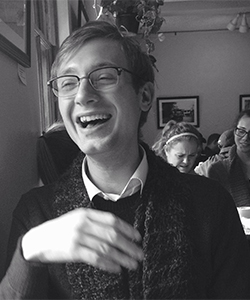 Being a part of the English major community in Madison is an incredible experience.  We have such a wide range of interests that you can find someone that is curious about anything.  The students, professors, and academic staff that form this community inspire me to chase my dreams and find my own answers to this question: "Who am I, and what do I want to do with my life?"  For me, the answer includes many things: I want to explore and the past and discover the future while making beautiful things that inspire others to do the same.  Studying English gives me a chance to do all of this while learning how to make sense of my ideas and turn them into something tangible.  No matter what you care about, English allows you to explore it.
I believe it is imperative that we use our time on this campus to do beautiful things, and I'm excited to work as the Editor in Chief of Illumination and a member of the WUD Publications Committee.  Our groups share student work with the campus community, connecting those that normally have no interest in English with pieces of writing that everyone can find something amazing in.  I hope to move on to grad school and finally find a cozy spot in the publishing business that allows me to read and drink coffee at a prolific pace.
---
BROCK MANNING
My name is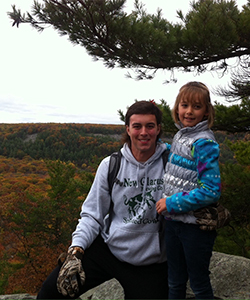 and I am a senior majoring in English with an emphasis in literature.  I am also pursuing a certificate in Leadership and a certificate in Entrepreneurship.  I am from Green Bay, Wisconsin, but went to high school in Pulaski, a small town about fifteen minutes from Green Bay.  Besides school, I am also involved in BadgerCru and lead bible studies for students in the dorms.  Additionally, I am a member of the Wisconsin Fishing Team and participate in Club Wrestling.  Health and fitness are also passions of mine and I obtained my certificate as a personal trainer last spring.
I majored in English because of my desire to be a teacher.  My dad is an English teacher and wrestling coach at Pulaski High School.  I saw firsthand what an impact he could have on the lives of his students and athletes and decided I wanted to be able to directly influence others as well.  After I graduate, I plan on obtaining my teaching certificate from the University of Wisconsin Green Bay.  I would advise other students to reflect on the study of English as more than just reading or writing.  Effective communication skills are essential no matter what future job one might obtain.  I would also advise students to diversify their skill set while at the UW and make the most of their experience.  Certificates usually only take a few classes and add value to your degree.
In my free time I enjoy outdoor activities such as hunting and fishing, working out, and spending time with my eight-year-old sister.
---
MATTHEW LEWIS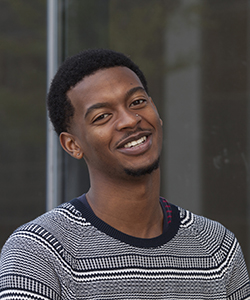 My name is Matthew Lewis and I am a senior English major with an emphasis in creative writing.  I'm also completing certificates in Gender and Women's Studies and Digital Studies.  I'm from the wonderful city of Milwaukee, WI.  This really is a different world than the one I'm from, but I suppose that's why I'm here.  Most days, you'll most likely find me hanging around Vilas Hall where lots of theater and media programs happen, at work serving sophisticated cheeses and a smile, racing for the hot lunch bar at Fresh Market, or watching bad movies with my cat.  I've also worked at the LGBT Campus Center and the Campus Women's Center, spaces that I encourage everyone to check out.  (The LGBTCC has free printing!)  I suppose I chose Creative Writing because it's the program that makes me realize how important self-discipline and self-love are to the study of creative arts.  My writing workshops here have been some of my most challenging but most rewarding experiences.  My time here continues to be an interesting journey to say the least, but I'm a different student than I was when I first arrived, so something's got to be doing what it's supposed to do.  My advice to anyone pursuing the English-Creative Writing track is to just be bold and unapologetic.  When it gets tough, embrace your imperfections and love them fiercely.  I believe our understanding of our place in the world will and should change at least 100 times before we leave college, if we're doing it right.  Enjoy the journey, decide the results.
---
ELLA RAUSCH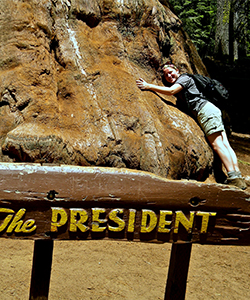 I am a third-year senior on the Language and Linguistics track with a certificate in Environmental Studies.  As a first generation college student, I was initially apprehensive about going into a field that is deemed by so many as a "useless degree."  However, every one of us uses English every day and there is no more effective way to communicate than through language.  Taking classes from Lynn Keller and Bill Cronon gave me the final push I needed to pursue my combined interests of the written word and our natural world.  Outside of the classroom I spend time getting lost at the Arboretum, reading books on the American landscape, baking, dreaming about the day I can get a dog, taking pictures, and planning my future Tiny Home.  I am also active in the UW chapter of Habitat for Humanity and SlowFood in the outreach departments.  My dream job lies somewhere between living in the mountains of the West and teaching everyone about how lucky we are to live in such a beautiful country and what we must do now to preserve its awesomeness.
---
MEGAN VILLALPANDO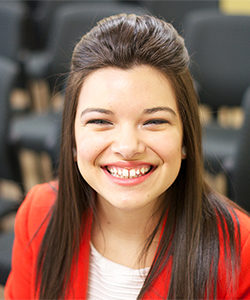 My name is Megan Villalpando and I am a senior majoring in English Literature with a certificate in Education & Educational Services.  Beyond the classroom, I am actively engaged in several organizations that combine my interests of English and higher education.  I work in the Enrollment Center at Madison Area Technical College, serve as a Writing Fellow, a NUFP Fellow, and am Co-president of Muse.  After I graduate, I hope to continue working in higher education while preparing to enter graduate school for Composition & Rhetoric studies.  After many more years of school, my dream job would be teaching composition courses at the community college level.  In my free time, I enjoy daydreaming about living in New York City, reading fashion blogs, and Face Timing my adorable, one-year old niece.
---
CHLOE MCKENZIE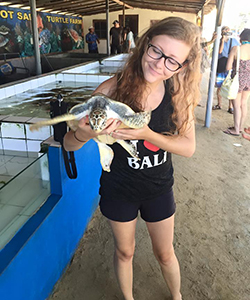 I became an English major because of the simple fact that I love books. I've always loved books. My decision to pursue an education based almost entirely on the reading and understanding of literature can be understood as a natural progression of a childhood fascination. And in this, I believe, the English major tends to be unique. People generally do not become English majors without an abiding and long-standing love affair with books. This cannot be said of, say, a business major…as you can imagine, "oh, sure, I remember when I was a kid, I used to spend my summers pouring over spreadsheets and analyzing risk, I couldn't get enough of business!" is not something one generally hears. Now, that is not to say that a business major (or any other major) is not worth pursuing, of course. It's just that, I believe that the people who become English majors must do so not out of what they hope to gain after having obtained the degree, but out of the pure, unfiltered enthusiasm for the subject at hand. We do it because we love it, and because we could not imagine doing anything else. The practice of reading, and then understanding, over and over, again and again, teaches us more than what can be gained through any single book. Studying English teaches us nothing more and nothing less than how to think, and think clearly and critically, about any issue. This skill has proven invaluable as I've encountered cultures and viewpoints different from those I am used to in my time studying abroad in Perth; as I've worked in the complex and frenetic political sphere as an intern for state representative Peter Barca; and simply as I've gone about the business of trying to reconcile my role in a society that often seems unfair and unjust. The study of fiction, and the study of literature, is a way of making the truth manageable. We can come to know ourselves through the writing of others. And, honestly, I wouldn't want to study anything else.
---
ZACH CLARK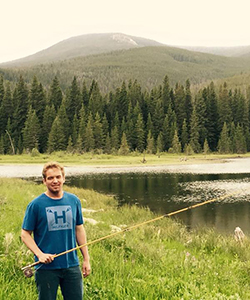 I am a senior on the honors track of the English literature major and I am also pursuing a certificate in Scandinavian Studies.  I grew up in New Glarus, a village about thirty miles south of Madison.  Both my mother and grandfather attended UW-Madison before me, making Madison something of a family tradition.  I spend much of my time outside of class reading and writing.  As such, I am involved in the Writing Fellows program, the Madison Review, and the Fiction Writers Association.
I chose to be an English major for two reasons.  First, I believe that writing and reading offers us the ability to inhabit the perspectives of any number of people removed from us by language, geography, and time as well as record our own perspectives for others.  Second, I am fascinated by the relationship between a text and the society it emerged from.  Each book we read—each story that finds its way into our assigned readings—is a reflection on the culture from which it was born, giving us a window into the practices, power structures, and values that defined those people.  My advice to new English majors is to seize every opportunity that comes your way and to cultivate habits which will allow you to make the most of those opportunities.
---
LINDSEY DOUGLASS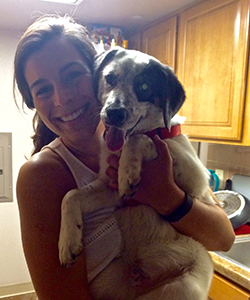 My name is Lindsey Douglass and I am a senior majoring in English Literature from Madison, WI. I grew up about 10 minutes outside of the city, so coming to Madison was a pretty obvious choice, especially since my mother volunteered to do all of my laundry during my freshman year. I love the relaxed, collaborative environment of Madison, and the fact that there is a coffee shop on every corner. I am one of the co-presidents of MUSE this year, a member of Kappa Alpha Theta, and have an internship as a Records and Information Management Intern at CUNA Mutual Group. I like to write, bake, do crafts, explore the city with friends, and play with my 9-month-old puppy in my free time! I chose to be an English major after spending two years 'majoring' in the sciences while taking an English class each semester as my 'fun' class. When I called to tell my parents I had switched my major to English they said, "Yeah, we wondered why the girl who packs more books than clothes for vacation was majoring in the sciences, but you can do anything you set your mind to, so we didn't want to say anything." (I really wish they would have said something before I took Organic Chemistry).
The second best advice I have ever received in regards to figuring out what to major in: "If you don't like half of these classes, why do you want this to be your major? They aren't making you take these classes because they want to torture you; every class you take is to teach you something that you are going to be using in your career. You should be excited about at least 90% of the classes in your major, and the other 10% you can dread because of their difficulty, but never because of their subject."
The absolute best advice, courtesy of Karen R: "Join MUSE."
---
BRIDGET MILLER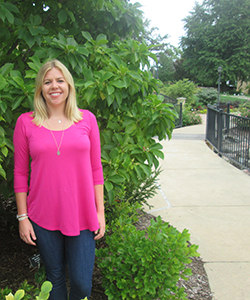 My name is Bridget Miller, and I am a senior double majoring in English (with a focus on literature) and Anthropology. Last spring I was able to study abroad in London, where I met Professor Susan Bernstein from the English department at UW.  During my time abroad I completed research at the British Library, getting the chance to look at original letters and pieces written by Virginia Woolf. My passion for Woolf inspired me to continue my research back at Madison; I am currently working on my senior honors thesis project with Professor Bernstein and hope to have it published at the end of this school year. I work at James Frenkel Publishing Company, and plan to continue working in the publishing world after I graduate from Madison. I would love to end up in London or somewhere in Asia after I graduate, but am open to going wherever the wind blows me. If you are new to the English major, make sure to make an appointment with Karen Redfield. She has great advice and never lets you leave her office without chocolate!