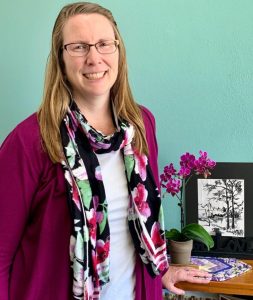 While you are encouraged to visit your professors and teaching assistants during office hours, sometimes you need further logistical guidance, help applying for study abroad programs, or a discussion of career opportunities.  Our undergraduate advisor, Chris Logterman, welcomes conversations with majors, potential majors, and any students inspired by study in this department.
Scheduling an Academic Advising Appointment
Both enrolled and prospective English majors can schedule a 20-minute advising appointment using Starfish.  If you need more time, you may schedule two appointments in a row.  If you need to talk and do not find any open appointments, please email Chris to find another time.  If you miss more than two scheduled appointments, you may need to wait longer for a third appointment.  Please bring a written copy of your questions to your appointment.  Be prepared to discuss your anticipated graduation date, your major track (Literature, Creative Writing, or Language & Linguistics), plans to double major or study abroad, interest in the honors program, interest in the Writing Fellows Program, involvement in student publications and groups, future plans, and other relevant information.
Have a question that can be answered in a few lines? Feel free to e-mail Chris. Please be sure to mail from your current wisc.edu e-mail address and include your campus ID number at the bottom of the message.  For questions regarding Creative Writing courses, please visit the Creative Writing webpage or contact the Creative Writing Coordinator Ron Kuka.
More information about declaring an English major can be found here.
Stay up to date on all English undergraduate advising updates, announcements, event reminders, and more by following the combined academic and career advising Twitter account, @UWEnglAdvising.