Caroline Hensley
Position title: Career Advisor
Pronouns: she/her
Email: cmhensley@wisc.edu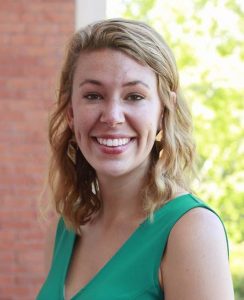 Year Admitted: 2018
Bio
Caroline Hensley is a PhD candidate in English Literary Studies. Her dissertation, "Global Literatures, Global Health: Illness, Disability, and Medicine in Contemporary Transnational Texts," explores anglophone literatures by multiethnic American and postcolonial authors from the 1990s onward in which experiences of disability, illness, and healthcare are contextualized by points of global contact. Her project investigates how literature can transform medical constructs, contest ableism and racism, and invite radically new modes of bodily inhabitance and care. In 2019-2020, Caroline served as a Mellon Morgridge Fellow for UW's "Health and Inequality" Constellations program and now works as the Career Advisor for UW English majors. She also lectures for the capstone course in the Health and the Humanities certificate program and is a regular contributing author for the interdisciplinary health humanities journal, Synapsis.
Interests
Contemporary Anglophone literature, Medical and health humanities, Disability studies, Postcolonial studies
Degree and Institution
BA (English), Clemson University
BS (Health Sciences), Clemson University
MA, University of Wisconsin – Madison
Selected Publications
"Poisoned Flesh: A Disability Studies Reading of Bodily and Global Contamination in Ruth Ozeki's 'My Year of Meats.'" Emerging from the Rubble: Asian/American Writings on Disaster, edited by Yasuko Kase and Eliko Kosaka, Vernon Press, forthcoming 2024.
Review of Crip Genealogies, edited by Mel Y. Chen, Alison Kafer, Eunjung Kim, and Julie Avril Minich. Journal: Midwest Modern Language Association, forthcoming spring 2024. (academic, peer review)