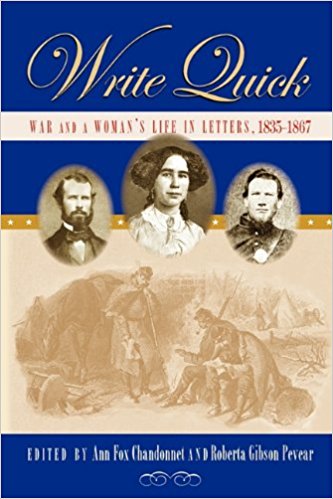 (Editor), Ann Fox Chandonnet."Write Quick: War and a Woman's Life in Letters, 1835-1867." 2010: n. pag. Print.
Amid the gathering clouds of war, far from the nation's centers of power, two American families felt the first ripples on the breeze. Andrew Bean, a teacher and farmer from small-town Bethel, Maine, answered the call to the Union infantry. His younger sister Eliza, having found both employment and a suitable marriage in the bustling mill city of Lowell, Massachusetts, soon saw her husband, Henry Foster, enlist as well.
In more than 150 revealing letters dispatched from camp and field and home front, as well as Eliza Bean Foster's own diary, the honors and horrors of war play out on an intimate stage.
Seldom does a surviving cache of documents illuminate the full span of the antebellum and war years in such close detail, from so many different angles. While Andrew wrote from the eastern battlefields of Bull Run and South Mountain, Henry posted lines from New Orleans, Fort Monroe, and Sabine Pass in the Western Theater. Eliza's replies describe children and family—and sometimes desperate circumstances. "I have a good mind to send this [money] right back," wrote Eliza to her brother near war's end. "I shant use it untill I hear from you. Write quick."
Illustrated with more than 50 original documents and never-before-published photographs, the volume traces Eliza's life from New England mill girl, to young married woman and mother, to war widow and victim of consumption. Write Quick presents a valuable case history and a poignant story of one Northern woman through her own pen and the lens of her contemporaries.
Read more