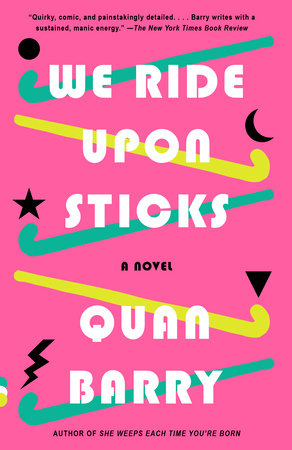 Barry, Amy Quan. We Ride Upon Sticks. Penguin Random House, 2021. Print.
In the town of Danvers, Massachusetts, home of the original 1692 witch trials, the 1989 Danvers Falcons will do anything to make it to the state finals—even if it means tapping into some devilishly dark powers. Against a background of irresistible 1980s iconography, Quan Barry expertly weaves together the individual and collective progress of this enchanted team as they storm their way through an unforgettable season.
Helmed by good-girl captain Abby Putnam (a descendant of the infamous Salem accuser Ann Putnam) and her co-captain Jen Fiorenza (whose bleached blond "Claw" sees and knows all), the Falcons prove to be wily, original, and bold, flaunting society's stale notions of femininity. Through the crucible of team sport and, more importantly, friendship, this comic tour de female force chronicles Barry's glorious cast of characters as they charge past every obstacle on the path to finding their glorious true selves.
Read more