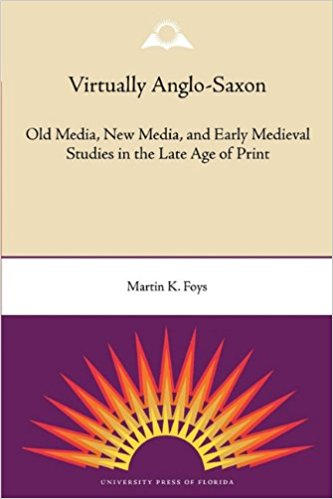 Foys, Martin."Virtually Anglo-Saxon: New Media, Old Media, and Early Medieval Studies in the Late Age of Print." 2007: n. pag. Print.
International Society of Anglo-Saxonists [ISAS] Best First Book Publication Prize
Finalist for the Modern Language Association's First Book Prize
Foys argues that early medieval culture did not favor the representational practices privileged by the modern age and that five hundred years of print culture have in effect shut off modern readers from interpretations of text and image that would have been transparent to a medieval audience. Examining print and post-print ways of reading medieval literature and art, he derives alternative models of understanding from the realm of digital media, considering pre-print expression through a range of post-print ideas and producing new and vital understandings of visionary Old English poetry, Anglo-Saxon maps of the world, 11th-century Benedictine devotional writings, medieval mathematical systems, stone sculpture of Viking settlers, and the famous Bayeux Tapestry.
Building chapter upon chapter into a sustained discussion of New Media theory and medieval interpretation, Foys provides a field-defining investigation of how digital technology and expression can refine and revitalize early medieval studies.