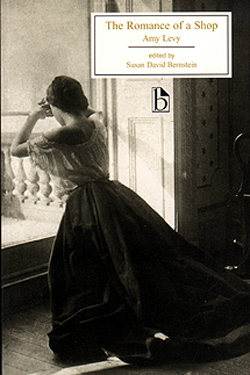 Bernstein (Editor), Susan David. The Romance of a Shop, by Amy Levy. Broadview Press, 2006. Print.
The Romance of a Shop is an early "New Woman" novel about four sisters, who decide to establish their own photography business and their own home in central London after their father's death and their loss of financial security. In this novel, Amy Levy examines both the opportunities and dangers of urban experience for women in the late nineteenth century who pursue independent work rather than follow the established paths of domestic service. By outfitting her characters as photographers, Levy emphasizes the importance of the gendered gaze in this narrative of the modern city.
This Broadview edition prints for the first time since the 1880s Levy's essay on Christina Rossetti and a short story set in North London, both published in Oscar Wilde's magazine The Woman's World. Other appendices include poetry by Levy, Michael Field, Dollie Radford, and A. Mary F. Robinson, and essays on Victorian photography, literary realism, "the woman question" at the end of the nineteenth century, and the plight of women working in London.
Read more