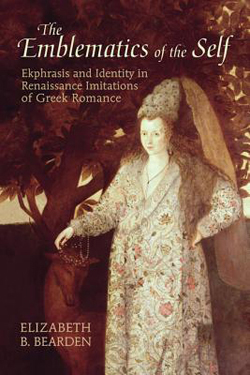 Bearden, Elizabeth B."The Emblematics of the Self: Ekphrasis and Identity in Renaissance Imitations of Greek Romance." 2012: n. pag. Print.
The ancient Greek romances of Achilles Tatius and Heliodorus were widely imitated by early modern writers such as Miguel de Cervantes, Philip Sidney, and Mary Wroth. Like their Greek models, Renaissance romances used ekphrasis, or verbal descriptions of visual representation, as a tool for characterization. The Emblematics of the Self shows how the women, foreigners, and non-Christians of these tales reveal their identities and desires in their responses to the 'verbal pictures' of romance.
Elizabeth B. Bearden illuminates how 'verbal pictures' enliven characterization in English, Spanish, and Neolatin romances from 1552 to 1621. She notes the capacity for change among characters — such as cross-dressed Amazons, shepherdish princesses, and white Mauritanians — who traverse transnational cultural and aesthetic environments. Engaging and rigorous, The Emblematics of the Self breaks new ground in understanding hegemonic and cosmopolitan European conceptions of the 'other,' as well as new possibilities for early modern identities, in an increasingly global Renaissance.
Read more