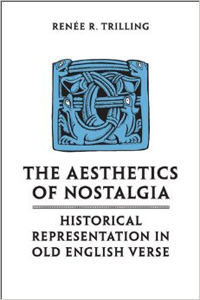 , Renée R. Trilling."The Aesthetics of Nostalgia: Historical Representation in Old English Verse." 2009: n. pag. Print.
Heroic poetry was central to the construction of Anglo-Saxon values, beliefs, and community identity and its subject matter is often analyzed as a window into Anglo-Saxon life. However, these poems are works of art as well as vehicles for ideology. Aesthetics of Nostalgia reads Anglo-Saxon historical verse in terms of how its aesthetic form interacted with the culture and politics of the period.
Examining the distinctive poetic techniques found in vernacular historic poetry, Renée R. Trilling argues that the literary construction of heroic poetry promoted specific kinds of historical understanding in early medieval England, distinct from linear and teleological perceptions of the past. The Aesthetics of Nostalgia surveys Anglo-Saxon literary culture from the age of Bede to the decades following the Norman Conquest in order to explore its cultural impact through both its content and its form.
Read more