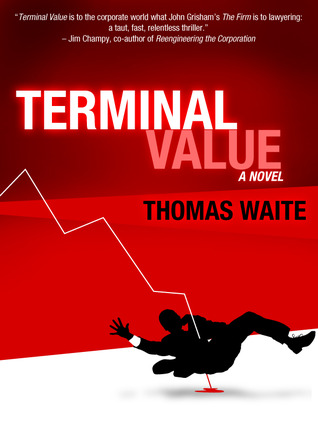 , Thomas Waite."Terminal Value." 2012: n. pag. Print.
Terminal Value is an intense thriller that provides an insider's look into the excitement of a technology start-up, the anticipated riches of an initial public offering, the gut-wrenching murder of a friend, and the dark side of corporate America.
Thomas Waite was born in Ipswich, Massachusetts. His debut novel, Terminal Value, was critically praised and reached #1 in Contemporary Books, #1 in Contemporary Fiction, #1 Paid in the Kindle Store, and #1 in Kindle Store Suspense at Amazon.
Waite is the board director of, and an advisor to, technology companies in the online security, media, data analytics, cloud computing, mobile, social intelligence, and information technology businesses. His non-fiction work has been published in a number of publications, including The New York Times and the Harvard Business Review.
Waite received his bachelor's degree in English from the University of Wisconsin-Madison and was selected by the English Department to participate in an international study program at the University of Oxford. He now lives in Boston.
Read more