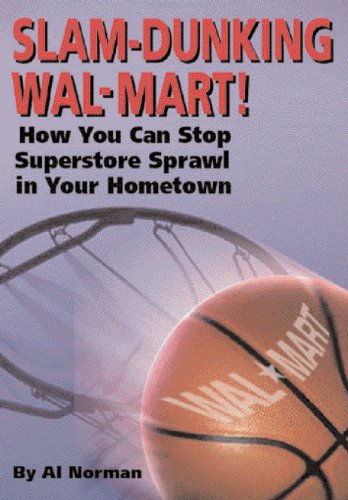 , Al Norman."Slam-Dunking Wal-Mart." 1999: n. pag. Print.
Wal-Mart is the world's largest company. Every week 138 million shoppers visit Wal-Mart's 4,750 stores. The country's largest employer, it plans to open 1,000 more supercenters inthe US over the next five years with each supercenter covering up to 200,000 square feet.

Today Wal-Mart is a major force in many categories of retailing including clothing, furniture, apparel, toys, CDs magazines and food. Wal-Mart's volume exceeds the gross national product of Saudi Arabia. It has done as much as $1.43 billion in sales in just one day!

Wal-Mart is a mean, tough relentless competitor using non-union, low-wage employees and relentless buying practices to become the price leader in any category it chooses.

If you have any doubt that Wal-Mart is an ever-expanding Goliath ready to beat all foes and destroy the viability of your downtown, read this book — the most telling expose of Wal-Mart ever written.
Read more