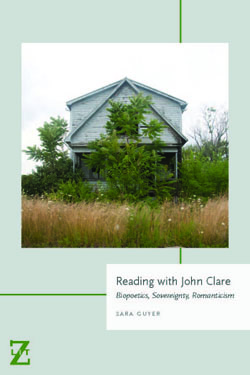 "Reading With John Clare." 2015: n. pag. Print.
Reading with John Clare argues that at the heart of contemporary biopolitical thinking is an insistent repression of poetry. By returning to the moment at which biopolitics is said to emerge simultaneously with romanticism, this project renews our understanding of the operations of contemporary politics and its relation to aesthetics across two centuries.
Guyer focuses on a single, exemplary case: the poetry and autobiographical writing of the British poet John Clare (1793–1864). Reading Clare in combination with contemporary theories of biopolitics, Guyer reinterprets romanticism's political legacies, specifically the belief that romanticism is a direct precursor to the violent nationalisms and redemptive environmentalisms of the twentieth and twenty-first centuries.
Guyer offers an alternative account of many of romanticism's foundational concepts, like home, genius, creativity, and organicism. She shows that contemporary critical theories of biopolitics, despite repeatedly dismissing the aesthetic or poetic dimensions of power as a culpable ideology, emerge within the same rhetorical tradition as the romanticism they denounce. The book thus compels a rethinking of the biopolitical critique of poetry and an attendant reconsideration of romanticism and its concepts.
Read more