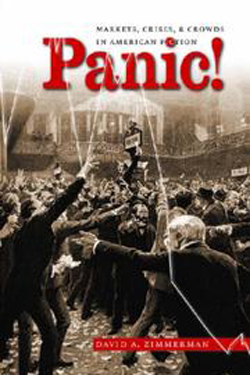 Zimmerman, David A."Panic!: Markets, Crises, and Crowds in American Fiction." 2006: n. pag. Print.
A Nota Bene selection of The Chronicle of Higher Education
During the economic depression of the 1890s and the speculative frenzy of the following decade, Wall Street, high finance, and market crises assumed unprecedented visibility in the United States. Fiction writers published scores of novels in the period that explored this new cultural phenomenon. In Panic!, David A. Zimmerman studies how American novelists and their readers imagined–and in one case, incited–market crashes and financial panics. Panic! examines how Americans' attitudes toward securities markets, popular investment, and financial catastrophe were entangled with their conceptions of gender, class, crowds, corporations, and history. Zimmerman investigates how writers turned to mob psychology, psychic investigations, and conspiracy discourse to understand not only how financial markets worked, but also how mass acts of financial reading, including novel reading, could trigger economic disaster and cultural chaos. In addition, Zimmerman shows how, by concentrating on markets in crisis, novelists were able to explore the limits of fiction's aesthetic, economic, and ethical capacities. With readings of canonical as well as lesser-known novelists, Zimmerman provides an original and wide-ranging analysis of the relation between fiction and financial modernity.
Read more