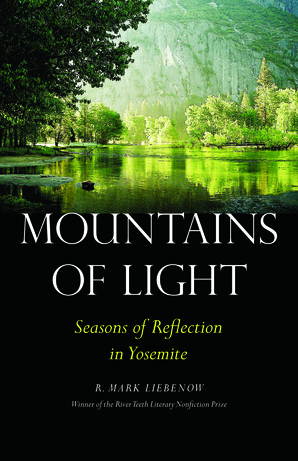 , Mark R. Liebenow."Mountains of Light: Seasons of Reflection in Yosemite." 2012: n. pag. Print.
The environment may surround us, but when that environment is a natural wonder like Yosemite National Park, it also reaches what's inside us. For Mark Liebenow, Yosemite did just that, and did so when he needed it most. In Mountains of Light, winner of the River Teeth Literary Nonfiction Prize, Liebenow takes us deep into the heart of this wilderness, introducing us to its grand and subtle marvels—and to the observations, reflections, and insights its scenery evokes. Acting as our guide, Liebenow calls on the spirit and legacy of naturalist John Muir to rediscover nature and recover his own exuberance for life. Whether celebrating the giant sequoias, massive granite mountains, and wild, untamed rivers, or losing himself on an unmarked trail, Liebenow is always accompanied by thoughts of his wife of eighteen years, whose recent and sudden death tempers and informs his journey.
Interwoven with his experiences are the stories of the Native Americans who lived in the valley for thousands of years and of the early settlers who followed. Melding documentary with introspection, environmental reportage with a search for meaning, Liebenow's work draws on the lore of geology, botany, biology, and history to show how each aspect of the environment is connected to the rest.
Read more