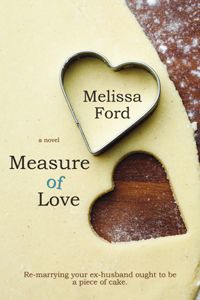 , Melissa Ford."Measure of Love." 2013: n. pag. Print.
It may be her second time getting married, but Rachel Goldman is definitely navigating a sticky relationship with her former—and soon-to-be-again—mother-in-law. Plus she's in a tug of war with the editor of her upcoming book on divorce who is begging her to keep her happy new relationship with her ex, Adam, on the down low. How can Rachel do that when her society-obsessed mother-in-law is eager to get a featured story in the wedding section of the New York Times?
Throw in a sister-in-law-to-be who's navigating her own upcoming nuptials as well as a friend who not only doesn't want to get married, but is possibly having an affair. Rachel finds herself with too many pots simmering on a very familiar stove.
Read more