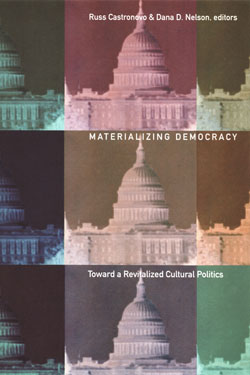 Castronovo (Editor), Russ, and Dana Nelson (Editor)."Materializing Democracy: Toward a Revitalized Cultural Politics." 2002: n. pag. Print.
For the most part, democracy is simply presumed to exist in the United States. It is viewed as a completed project rather than as a goal to be achieved. Fifteen leading scholars challenge that stasis in Materializing Democracy. They aim to reinvigorate the idea of democracy by placing it in the midst of a contentious political and cultural fray, which, the volume's editors argue, is exactly where it belongs. Drawing on literary criticism, cultural studies, history, legal studies, and political theory, the essays collected here highlight competing definitions and practices of democracy—in politics, society, and, indeed, academia.
Covering topics ranging from rights discourse to Native American performance, from identity politics to gay marriage, and from rituals of public mourning to the Clinton-Lewinsky affair, the contributors seek to understand the practices, ideas, and material conditions that enable or foreclose democracy's possibilities. Through readings of subjects as diverse as Will Rogers, Alexis de Tocqueville, slave narratives, interactions along the Texas-Mexico border, and liberal arts education, the contributors also explore ways of making democracy available for analysis. Materializing Democracy suggests that attention to disparate narratives is integral to the development of more complex, vibrant versions of democracy.
Contributors: Lauren Berlant, Wendy Brown, Chris Castiglia, Russ Castronovo, Joan Dayan, Wai Chee Dimock, Lisa Duggan, Richard R. Flores, Kevin Gaines, Jeffrey C. Goldfarb, Michael Moon, Dana D. Nelson, Christopher Newfield, Donald E. Pease
Russ Castronovo is the Jean Wall Bennett Professor of English and American Studies, University of Wisconsin-Madison and author of Necro Citizenship: Death, Eroticism, and the Public Sphere in the Nineteenth-Century United States, published by Duke University Press. Dana D. Nelson is Professor of English and Social Theory at the University of Kentucky and author of National Manhood: Capitalist Citizenship and the Imagined Fraternity of White Men, also published by Duke University Press.
Read more