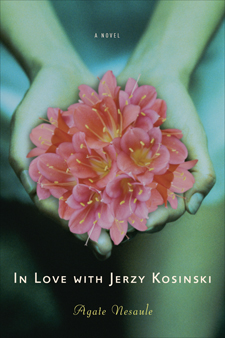 , Agate Nesaule."In Love With Jerzy Kosinski: A Novel." 2009: n. pag. Print.
From Agate Nesaule, acclaimed by writers across the globe from Doris Lessing to Tim O'Brien, comes a long-awaited novel. In Love with Jerzy Kosinski is a story of courage and persistence, exploring in fiction the themes that gripped readers of Nesaule's award-winning memoir, A Woman in Amber.
After fleeing Latvia as a child, Anna Duja escapes Russian confinement in displaced persons camps and eventually arrives in America. Years later, she finds herself in a different kind of captivity on isolated Cloudy Lake, Wisconsin, living with her disarming but manipulative husband, Stanley.
Inspired by the transformation of Polish-Jewish émigré Jerzy Kosinski from persecuted wartime escapee to celebrity author in America, Anna slips away from Stanley and Cloudy Lake in small steps: learning to drive, making friends, moving to Madison, falling in love, and learning to forgive. Readers will applaud the book's power, the beauty of its prose, and its strong evocation of a woman gradually finding her way in the wake of trauma.
Read more