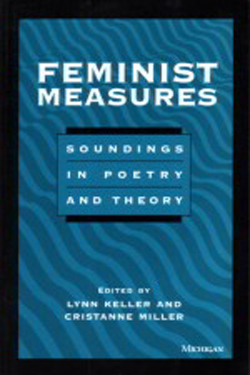 (Editor), Cristanne Miller, and Lynn Keller (Editor). Feminist Measures: Soundings in Poetry and Theory. University of Michigan Press, 1994. Print.
Feminist Measures: Soundings in Poetry and Theory breaks new ground in postmodern literary theory, including feminist theory, by moving the focus away from narrative fiction and onto poetry. The book responds to the need for more adequately theorized approaches to poetic literature by bringing together new, previously unpublished essays by fourteen accomplished critics.
Varied in subject, scope, and theoretical orientation, the essays consider poets from Aemilia Lanyer and Emily Dickinson to Lucille Clifton, Marilyn Hacker, and Theresa Hak Kyung Cha. The issues addressed range from the gender ideologies of the lyric to the construction of gendered narrative voice in Chicana poetry, and from the honoring of African-American spiritual traditions by acknowledging the reality of ghosts to the relevance to Adrienne Rich's poetry of Irigaray's recent writing on ethics. These diverse essays share a common interest in a theoretically self-conscious exploration of gender's role in poetic production.
Contributors include Rachel Blau DuPlessis, Susan Stanford Friedman, Margaret Homans, Akasha (Gloria) Hull, and Suzanne Juhasz. Several pieces by poet critics, most notably those by Marlene Nourbese Philip and by Joan Retallack, radically revise the generic expectations of literary criticism. By emphasizing the intersection of theoretical and poetic discourses, the book moves beyond the simple application of theory to text; it opens up the possibilities of the academic essay. The collection will be of vital interest to scholars and students interested in feminist literary criticism and women's poetry, and to readers of American poetry and twentieth-century poetry.
Lynn Keller is Associate Professor of English, University of Wisconsin-Madison. She is author of Re-Making It New: Contemporary American Poetry and the Modernist Tradition. Cristanne Miller is Associate Professor of English, Pomona College. She is the author of Emily Dickinson: A Poet's Grammar.
Read more