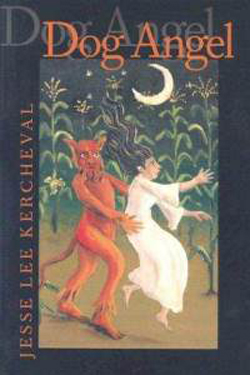 Kercheval, Jesse Lee. Dog Angel. University of Pittsburgh Press, 2004. Print.
Full of wit, vivid language, and devastating honesty, these autobiographical poems trace the timelines of life forward and backward. In them Kercheval offers a moving examination of the role of family and the possible/probable/hoped for existence of God—and how our perceptions of the divine can be transformed from a kindergartner's dyslexically scrawled "doG loves U" to the ever-present but oft-ignored Dog Angel of the title.
Ranging from a cross-country drive to bury her mother's ashes at Arlington National Cemetery, to a family vacation in Spain, to an imagined final exam given by her children, Kercheval explores the vagaries of love, loss, faith, grief, and joy with a calm, convincing wisdom that permeates this resonant and wonderful collection.
Read more